Terrazzo is a material that blends chips of marble, quartz, glass, granite, or other materials safely inside a binding material. Terrazzo has been around since ancient Egypt, and today terrazzo tiles are trending. They are everywhere – on backsplashes, walls, countertops, and of course, floors, as this trend used to be mainly for floor styling and for outdoors. Let's consider all the pros and cons of this gorgeous material to understand whether you need it for your space or not.
What Is Terrazzo Tile?
Terrazzo tile is a low-maintenance material that's a composite made from types of stone such as marble, granite, quartz, glass, and more. The mixture is held together with resin or concrete. Terrazzo floors and countertops were popular in the 1920s, 1980s, and today. Contemporary designers have started seeing a resurgence of terrazzo in hospitality buildings and homes.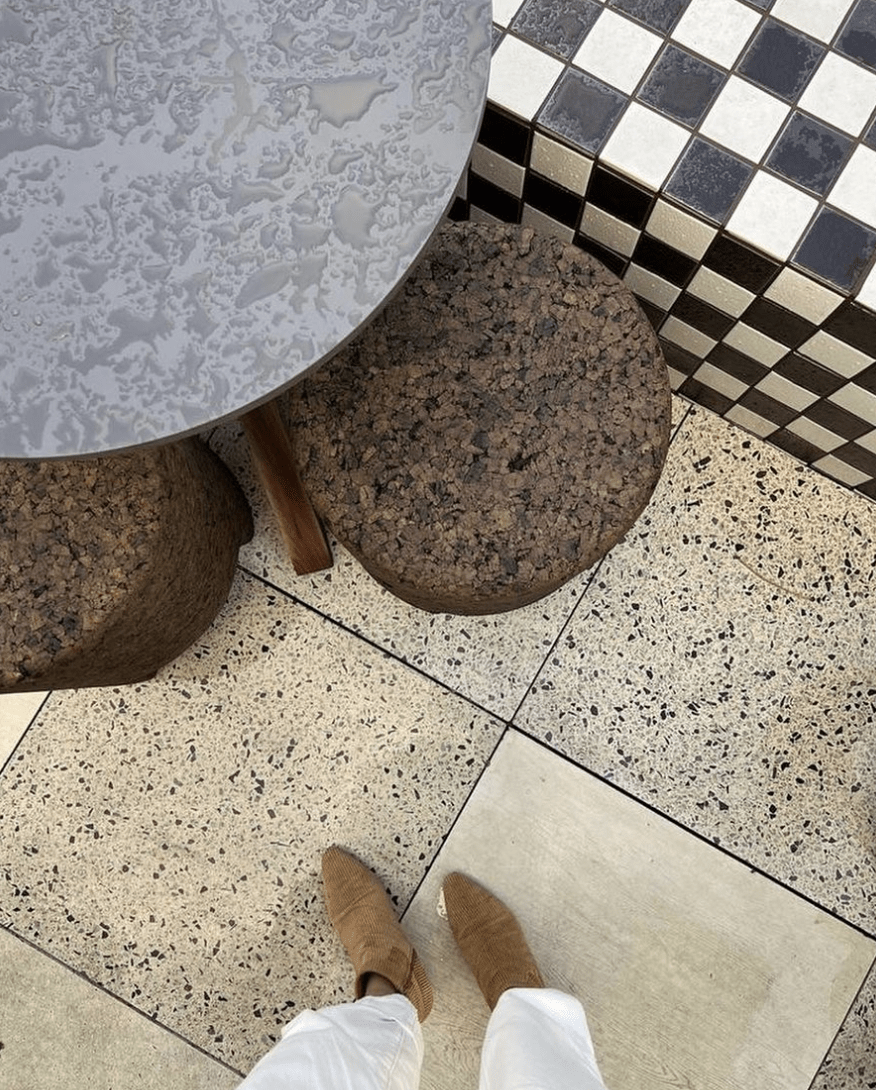 Terrazzo Origins
Terrazzo has roots in Italy, where workers put marble fragments into cement to make it inexpensive. Although it arrived in the US at the end of the 19th century, it didn't become popular until the 20s.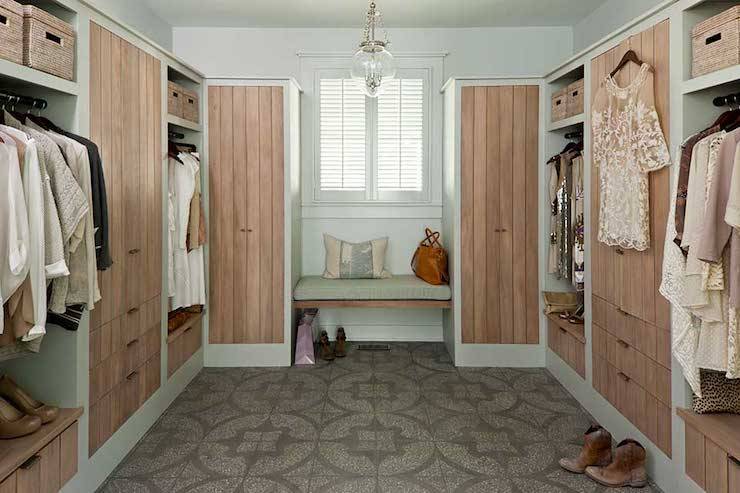 Early versions cracked easily, but the development of divider strips and the electric grinding machine increased its popularity. This was true in the era of Art Deco and Moderne styles. The divider strips allowed for curved designs, which were symbolic of this design era.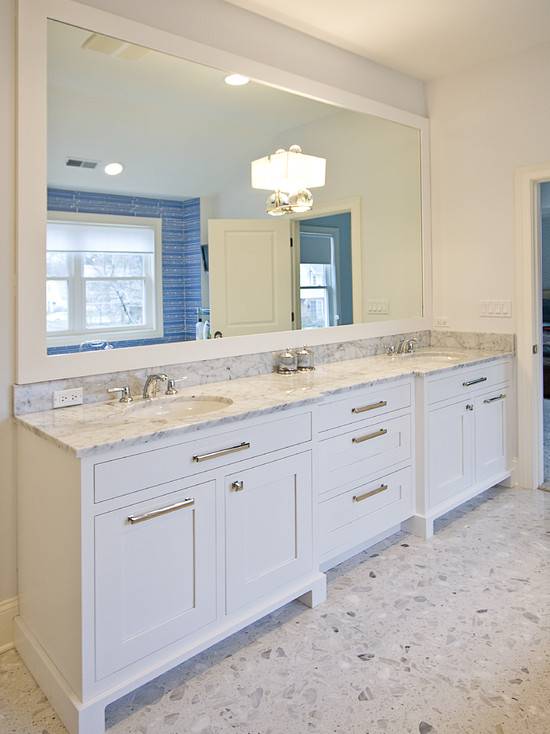 Terrazzo Applications
First used in schools and government buildings, terrazzo installation is prominent in residential homes. In addition to flooring, it is also used for kitchen surfaces like countertops and backsplashes.
Cement terrazzo features colors and flecks which are customizable, permitting a wide range of design options. As with any material, there are pros and cons to using it in your home. Before you make a decision, make sure you consider all the different factors.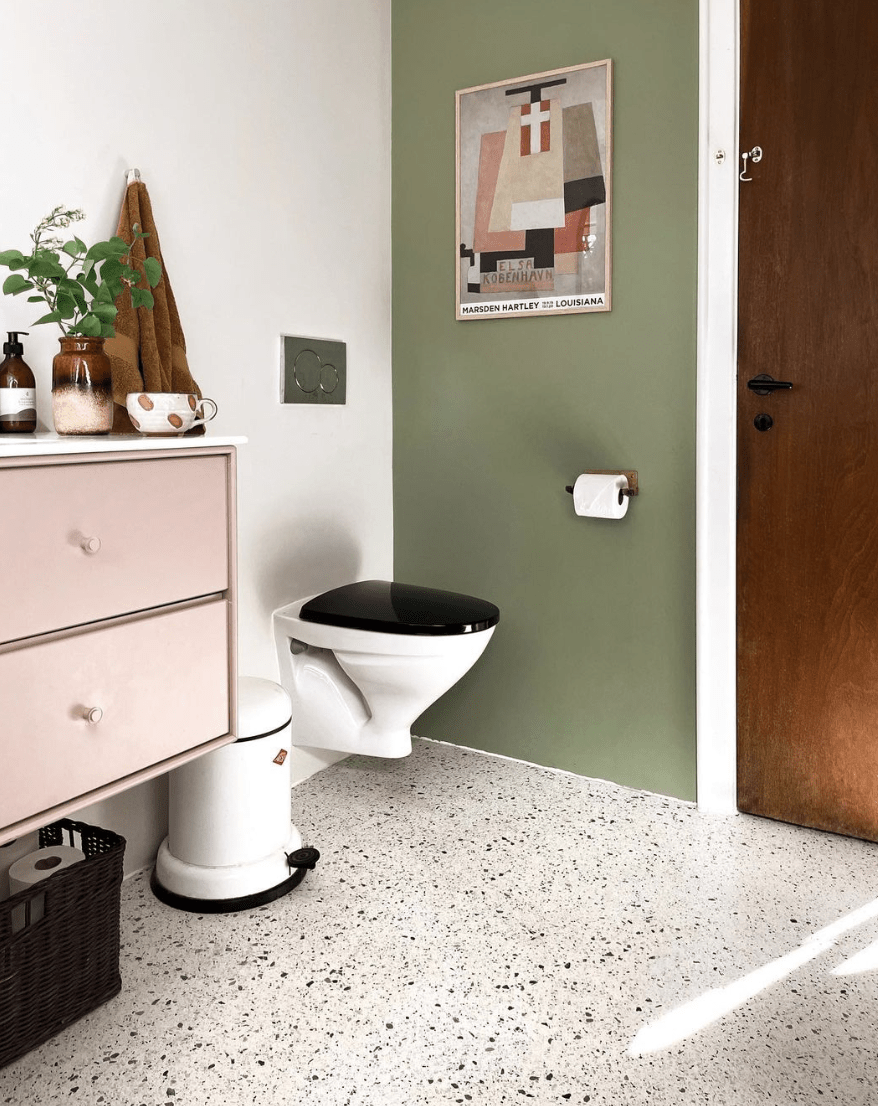 Pros Of Terrazzo Floors
Durability 
Terrazzo is one of the most durable flooring materials known today. Once sealed correctly, the material is impenetrable to water and stain damage. It also does not chip away like other materials. With the increase in popularity of this material, architects turn to terrazzo.
Terrazzo can withstand high-traffic areas, which makes it a preferred product in commercial buildings. Even if terrazzo is worn down over the years, it can be re-finished and polished to look as good as new. When considering the low maintenance of terrazzo, it provides a long-lasting product at an affordable price.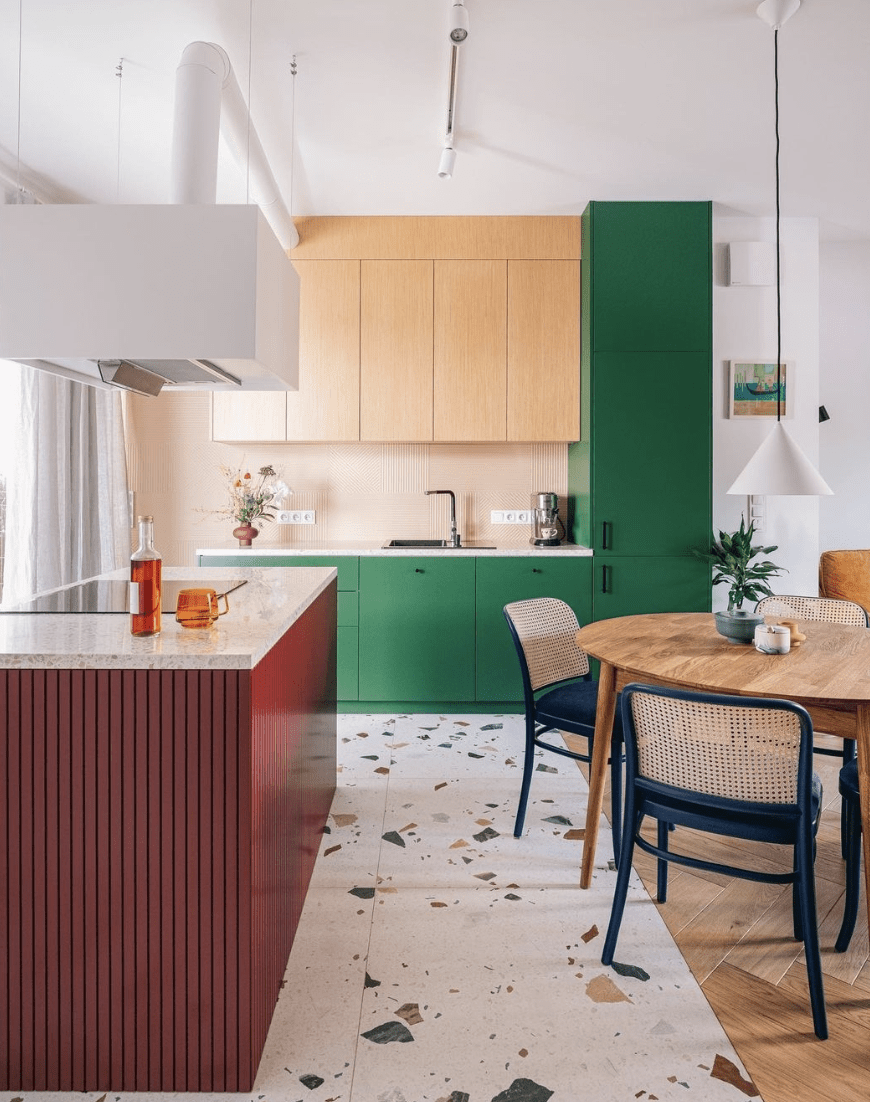 Terrazzo is a proven and durable flooring choice. Few flooring materials have been around for thousands of years. Many terrazzo floors are inexpensive to create, and the result itself can look very upscale. Saving the budget is an essential thing.
Limitless Design
Terrazzo embeds marble, granite, quartz, or glass chips in an epoxy resin binder, retaining aesthetic quality as seen in traditional based terrazzo. Because terrazzo is fabricated by mixing different elements together, you can select almost any design or floor for any project. This allows architects to incorporate abstract decorative designs, seals, logos, and other designs during the terrazzo installation.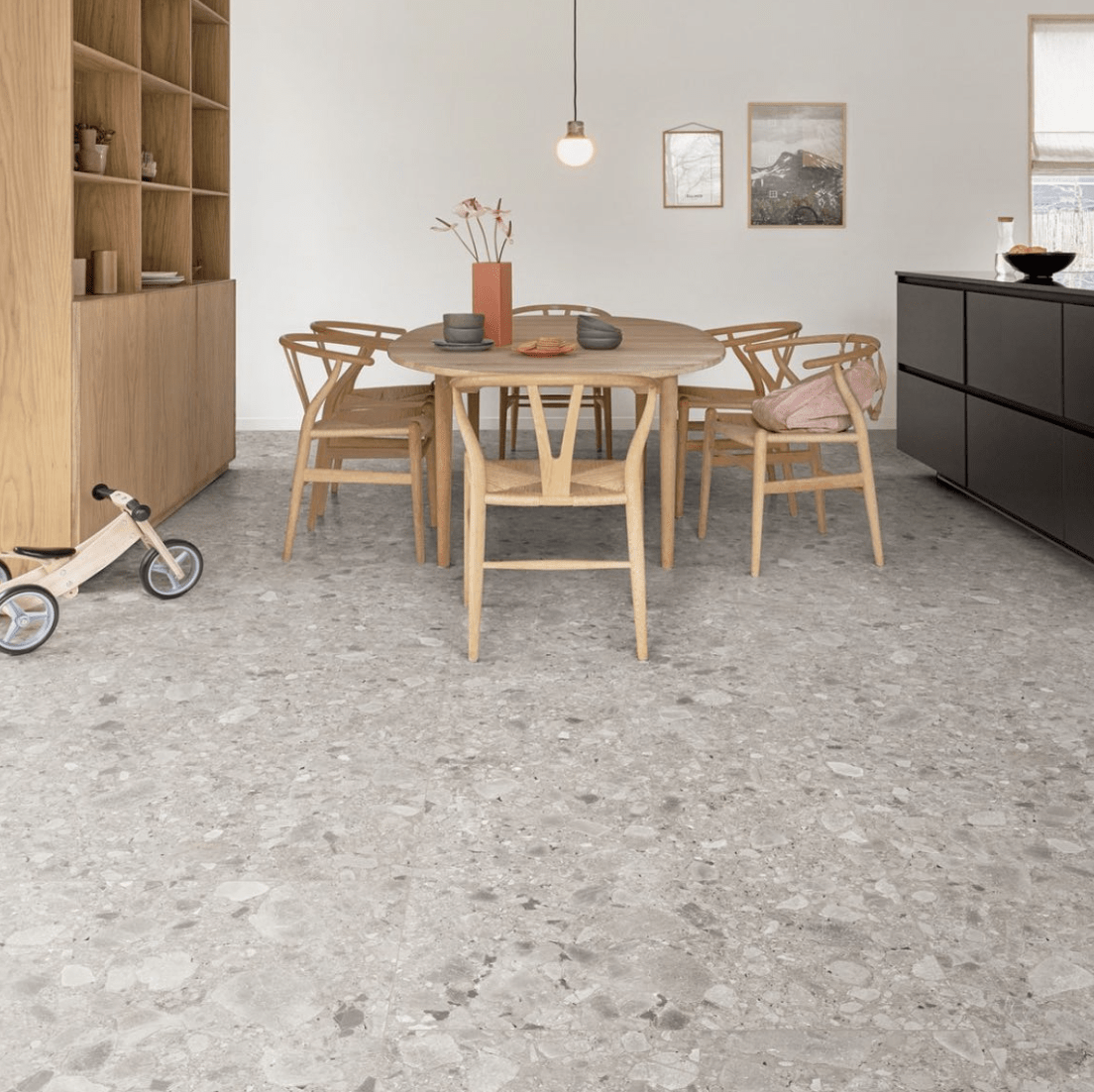 Terrazzo tiles look especially great in areas that get a lot of sun. The different colors are accentuated well, and installation options other than thin-set will resist fading well. The sheer range of colors, designs, and materials used in terrazzo are awe-inspiring. Terrazzo can easily be molded into panels that suit custom countertops, bathtubs, and sinks. It's also effortless to join together with technology such as underfloor heating.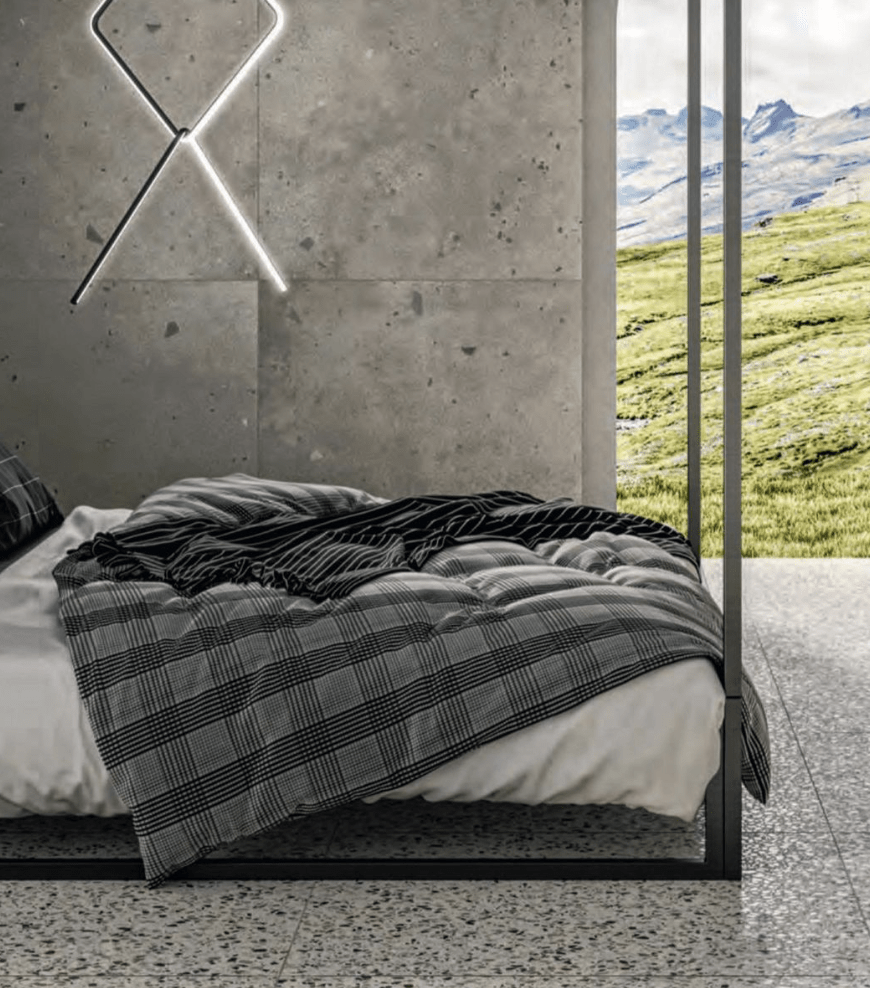 There's a wide range of installation options that enhance specific characteristics. Thin set is lightweight and very resistant to cracking. Sand-cushion is very durable. It can be poured straight onto a concrete subfloor via monolithic installation. Or you can rely on terrazzo tiles, which offer more precise control over the look and finish. Sweep and mop your terrazzo floors occasionally, and that's it – that's all the maintenance needed to keep up a terrazzo floor.
Environmentally-Friendly
Terrazzo is a beneficial material that helps in the design of sustainable buildings. To preserve scarce materials, terrazzo is an excellent alternative to other flooring types. The material can consist of recycled materials that have a positive impact on the health of people and the environment. Most epoxy resins contain zero VOC contents, which reduces harmful gasses from dispersing into the air, thus improving overall air quality.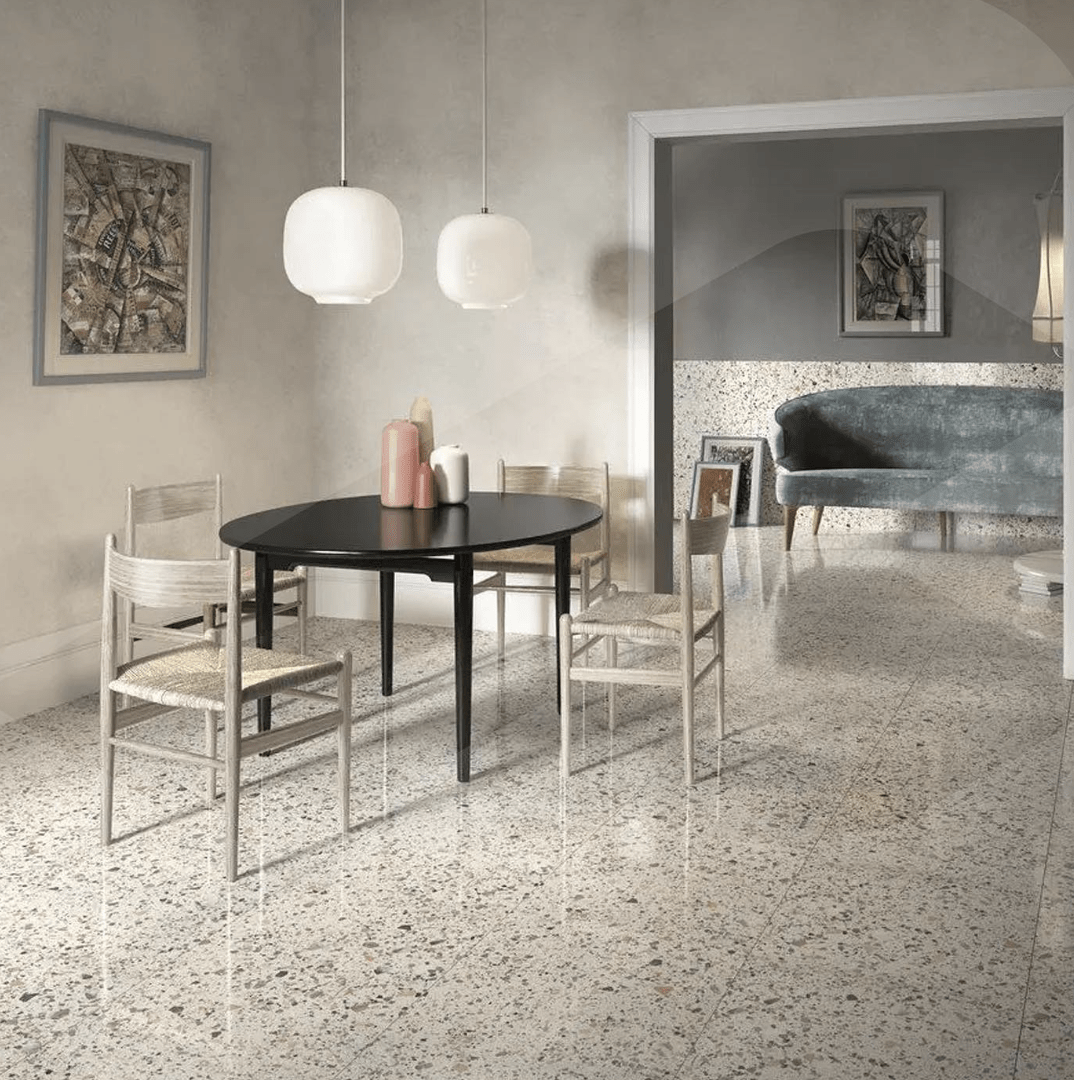 Indoor and Outdoor Applications
Installers can apply terrazzo in indoor and outdoor settings. Note: Epoxy terrazzo is best for indoor use; for outdoor applications, go with cement terrazzo. Today you can find this flooring material in high-traffic areas such as lobbies, hallways, and stairways. With the ability to repel water and stains, terrazzo is also a valuable item for countertops, showers, baths, and swimming pools.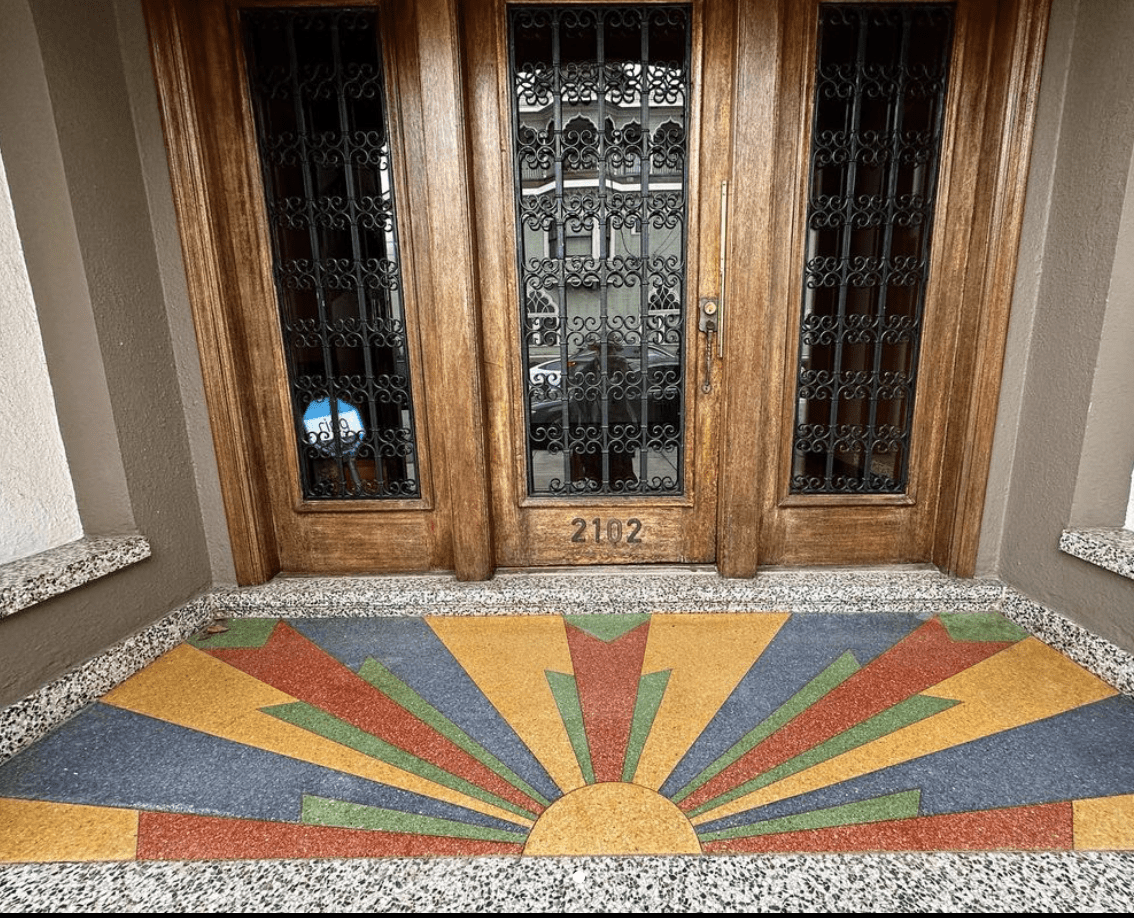 So whether you go with thin-set epoxy for indoor applications or rustic terrazzo for outdoor applications, terrazzo can meet the architect's needs to fit their style.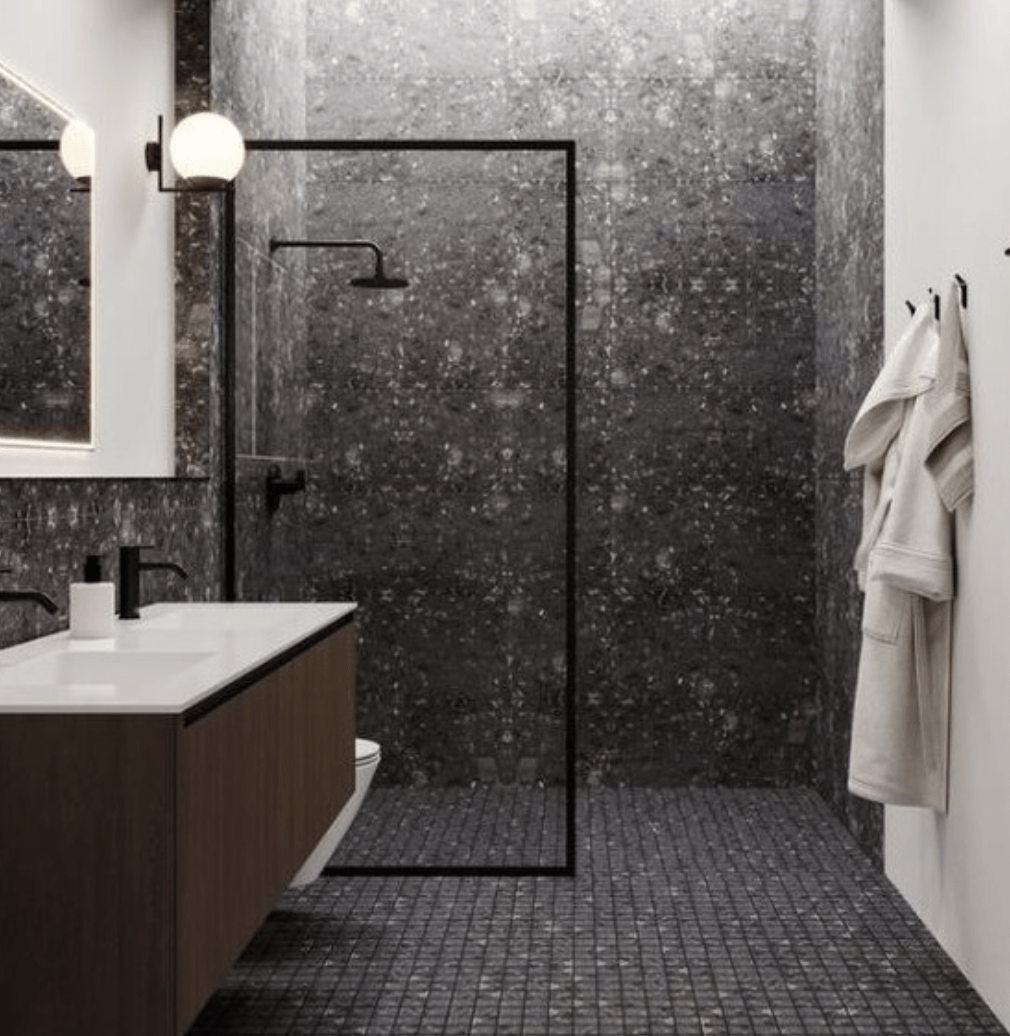 Cons Of Terrazzo Floors
Cold Nature Of Floor
One of the drawbacks of terrazzo is that the surface does not keep heat well during the winter months, making the floor feel a tad cold. Unless you have a heat insulator beneath the terrazzo, this may cause discomfort to those who walk across the floor barefoot.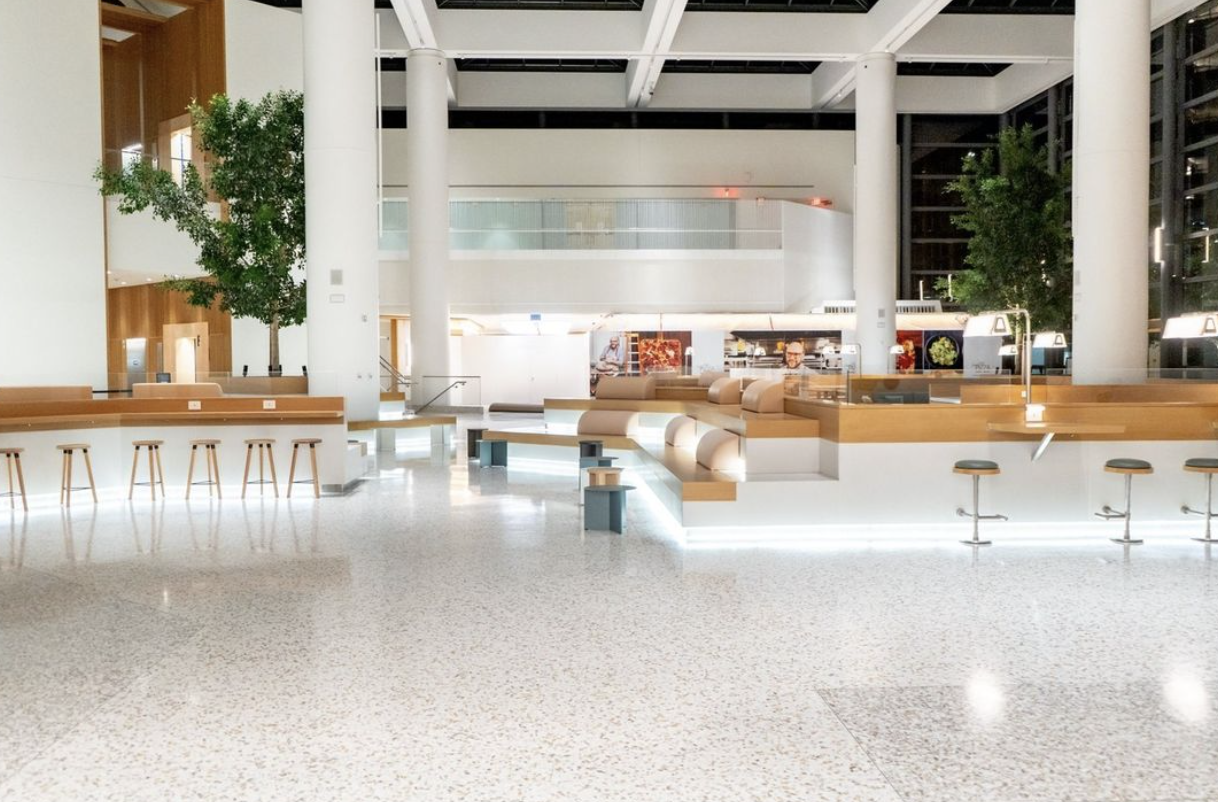 Recommended Professional Installation
While some flooring types can be installed personally, terrazzo floors can be pretty complex. One mistake could be costly. We recommend seeking a terrazzo installation company to do the work.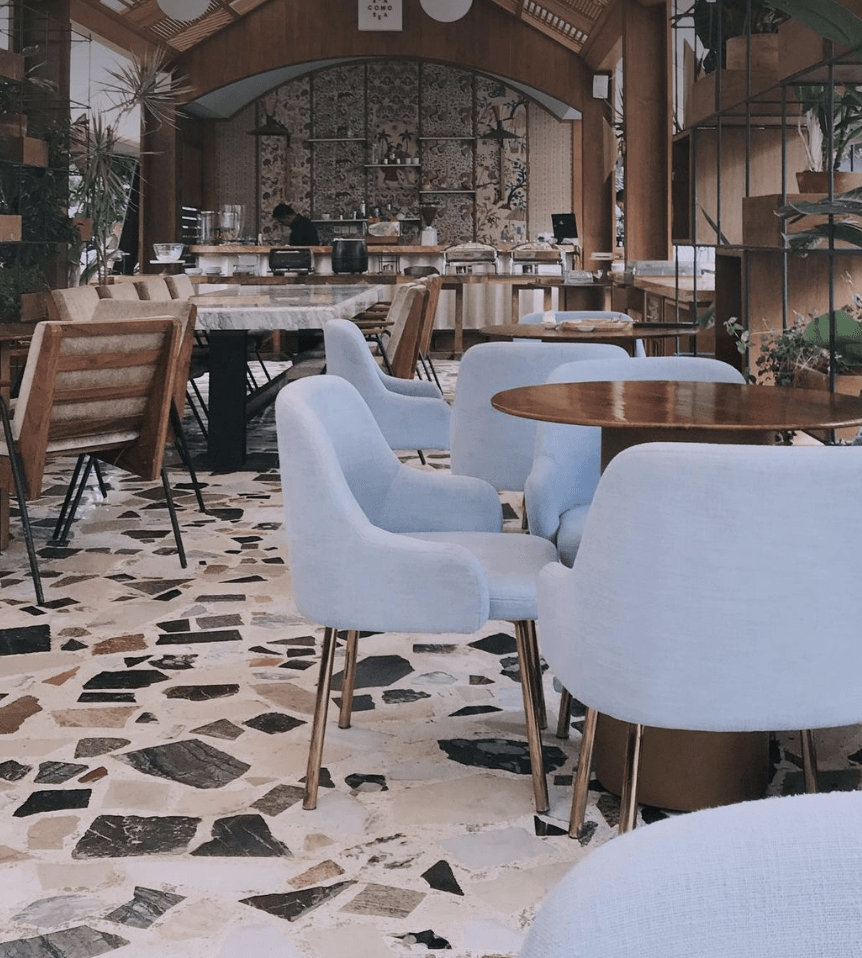 Careful with Color Choice
Despite its rising popularity today, terrazzo was often used in commercial spaces and institutions in the 1980s. You'll want to be careful with certain choices so that a room doesn't take on the look of an 80s mall or high school.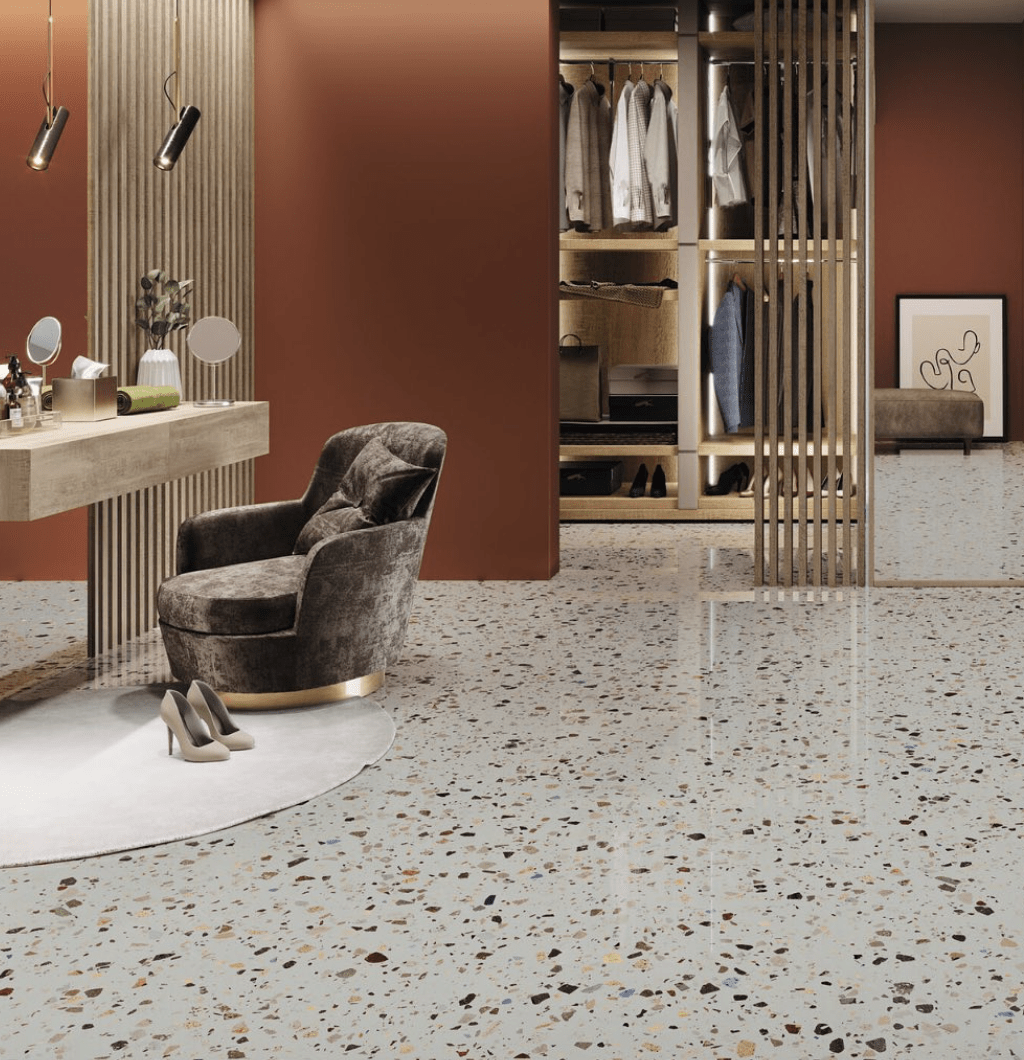 Terrazzo is a hot decor trend, but we don't know whether it will last long or not. Many home buyers would prefer hardwood floors, tiles, or even laminate, as terrazzo has distinctive looks and patterns, not to everybody's liking.
High Initial Cost
Terrazzo will save you money over time as it is quite durable and requires few repairs. However, the initial cost of terrazzo per square foot is higher than other materials. For people limited on budget, terrazzo seems unfavorable for projects.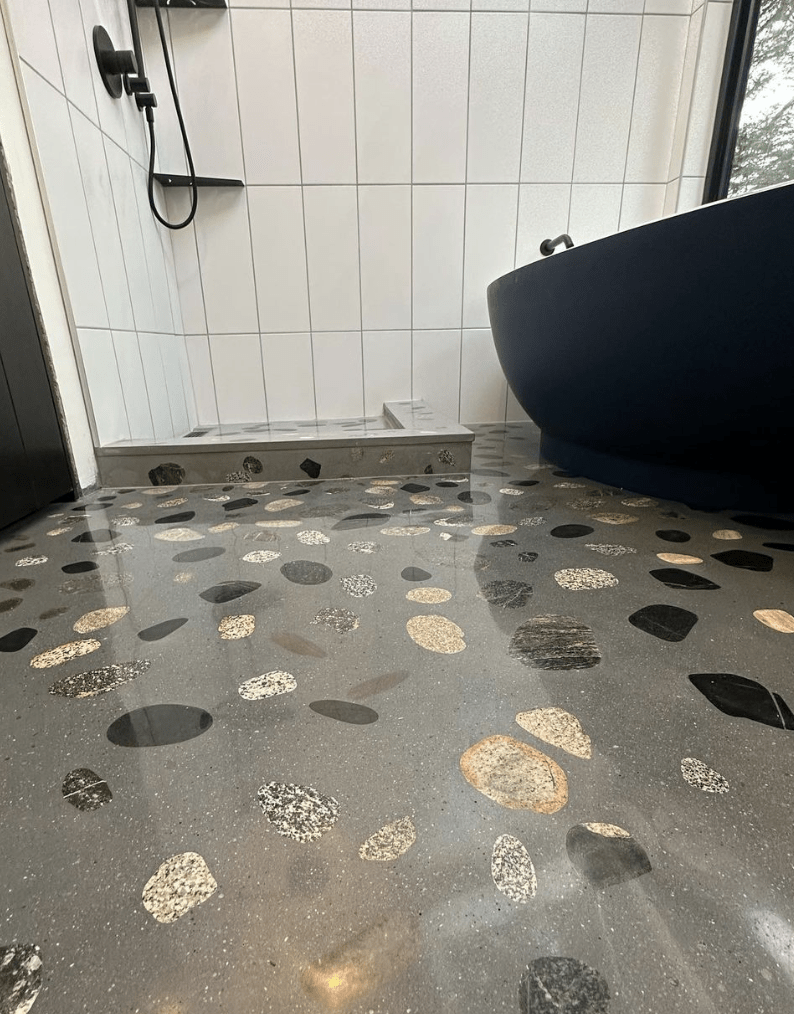 While some terrazzo is affordable, other aggregates can be rather expensive. It all depends on what materials are used in the terrazzo, and the cheapest option is terrazzo tiles. So the price can be both an advantage and a disadvantage.
Earthy & Warm
There's an explanation of why traditional Terrazzo flooring wandered over the design world for centuries: its original and relaxed ambiance captures the remarkable and coveted charm of artisanal Venetian halls and terraces and can be readily incorporated in almost any style or décor. Pay homage to this long tradition of design using natural colors that exude that particular raw and warm look that Venetian design is known for.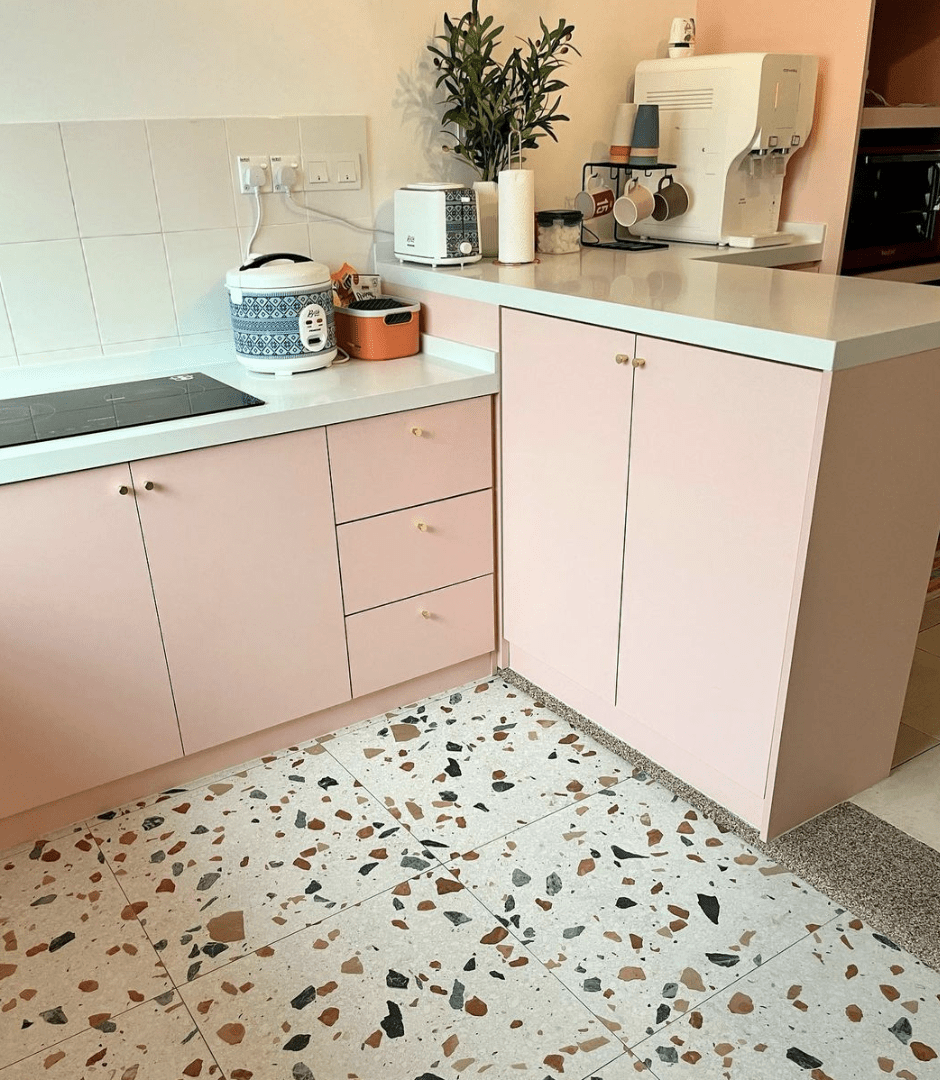 Elegant and Chic
The revival of terrazzo flooring in contemporary design and architecture refined and redefined the classic look with elegant finishes and sleek colors, supporting high-end modern presentations. Darker tones such as black and cool gray reference a more industrial style décor and transcend the classic Italian design to urban spaces with an edge.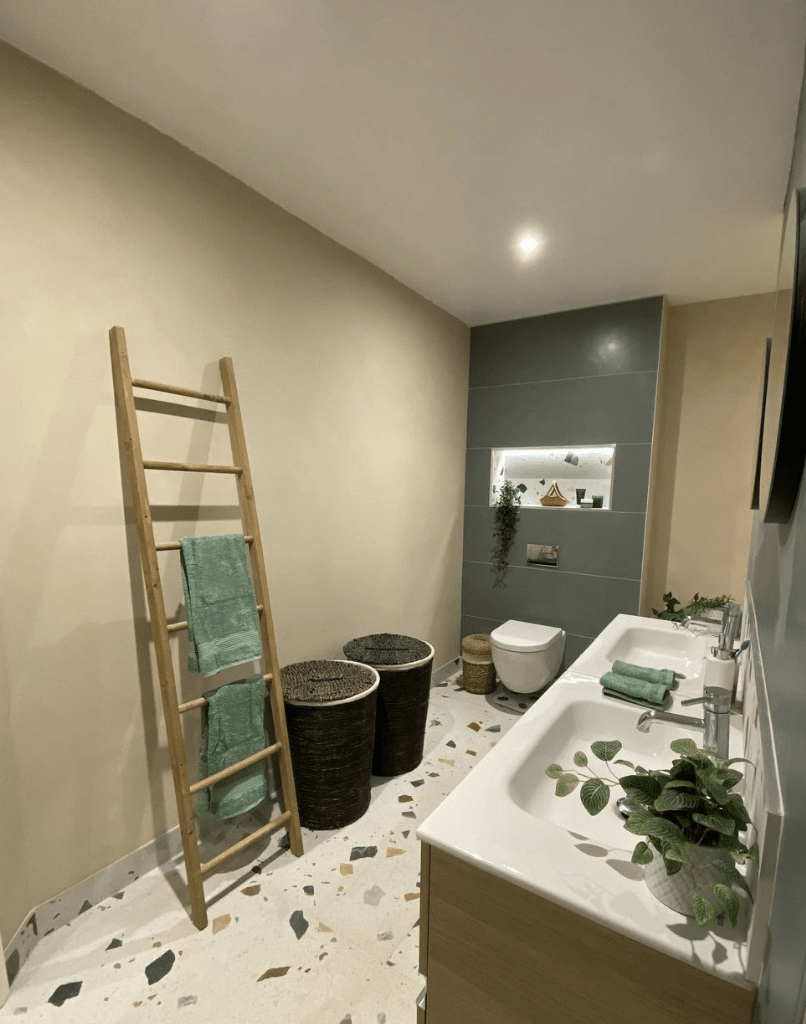 Smaller-grain patterns and new manufacturing techniques highlight color consistency and a more even visual texture while keeping the unique speckled pattern of the terrazzo.
Pattern Play
When most people think of terrazzo, they think of large-format tiles used for flooring big spaces with as little seams and grout as possible. Contemporary terrazzo floor tiles break the boundaries of what's anticipated, introducing pattern play into the mix and creating new and exciting design opportunities.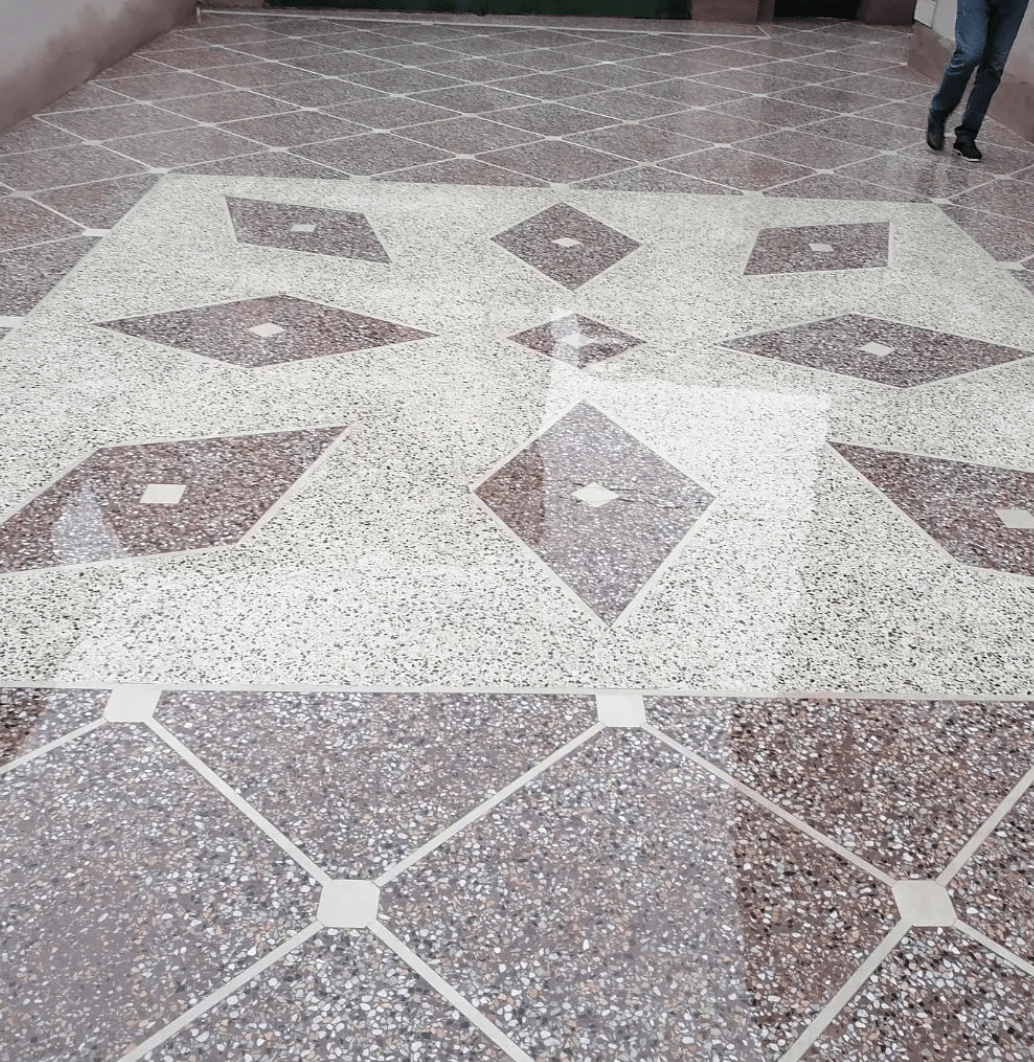 Decorative Details
While the terrazzo pattern can act as a great neutral backdrop to almost every design, it can also steal the show. The unique visual texture of terrazzo combined with stylized patterns and decorative designs can create one-of-a-kind looks in bright colors and geometric patterns.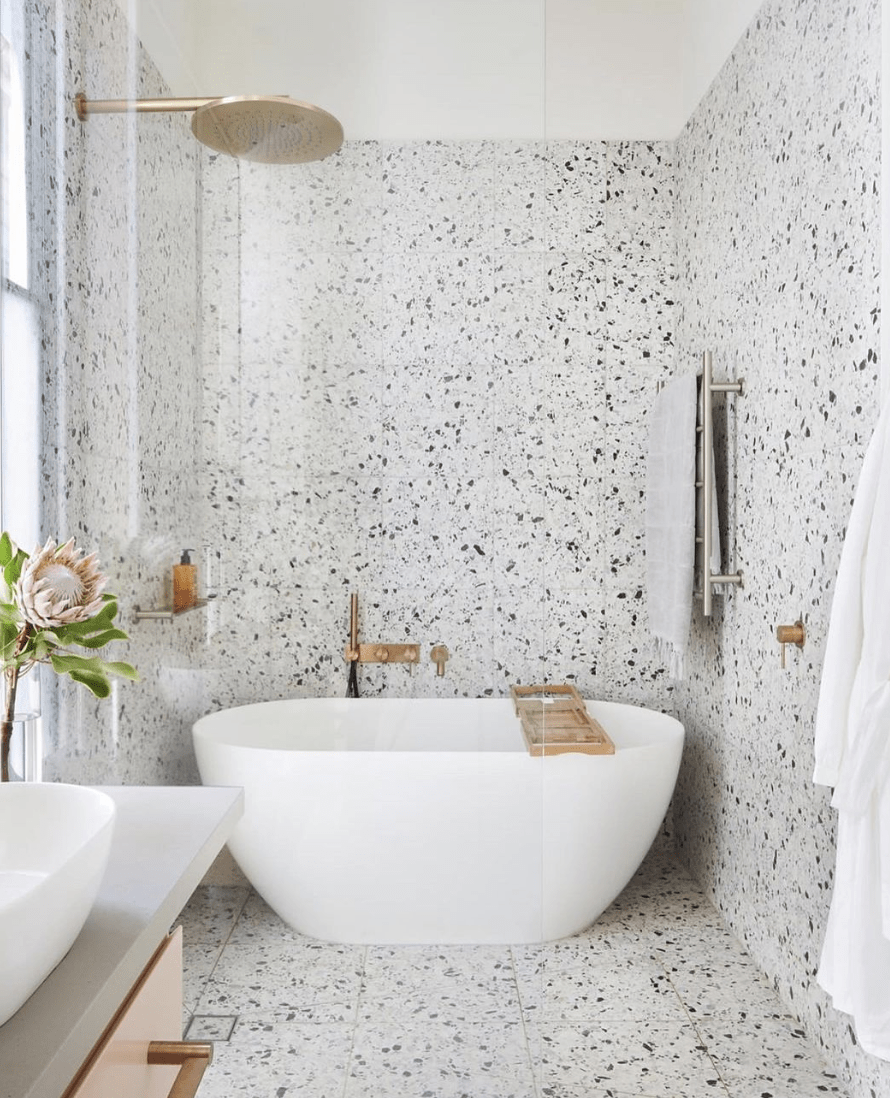 Decorative terrazzo tiles take advantage of the quality of versatility in terrazzo and elevate it to boost any composition with the classic terrazzo grain, creating visuals ranging from palm-beach glamour to ultra-modern urban.
Modern Confetti
As manufacturing technology keeps growing, the traditional terrazzo pattern gets reinvented with new colors and innovative shapes. Porcelain printing techniques reimagine traditional terrazzo in ways that cannot be found in nature: bright pinks, greens, and yellows step into the mix and elevate the terrazzo pattern to introduce confetti of hues and textures into any space.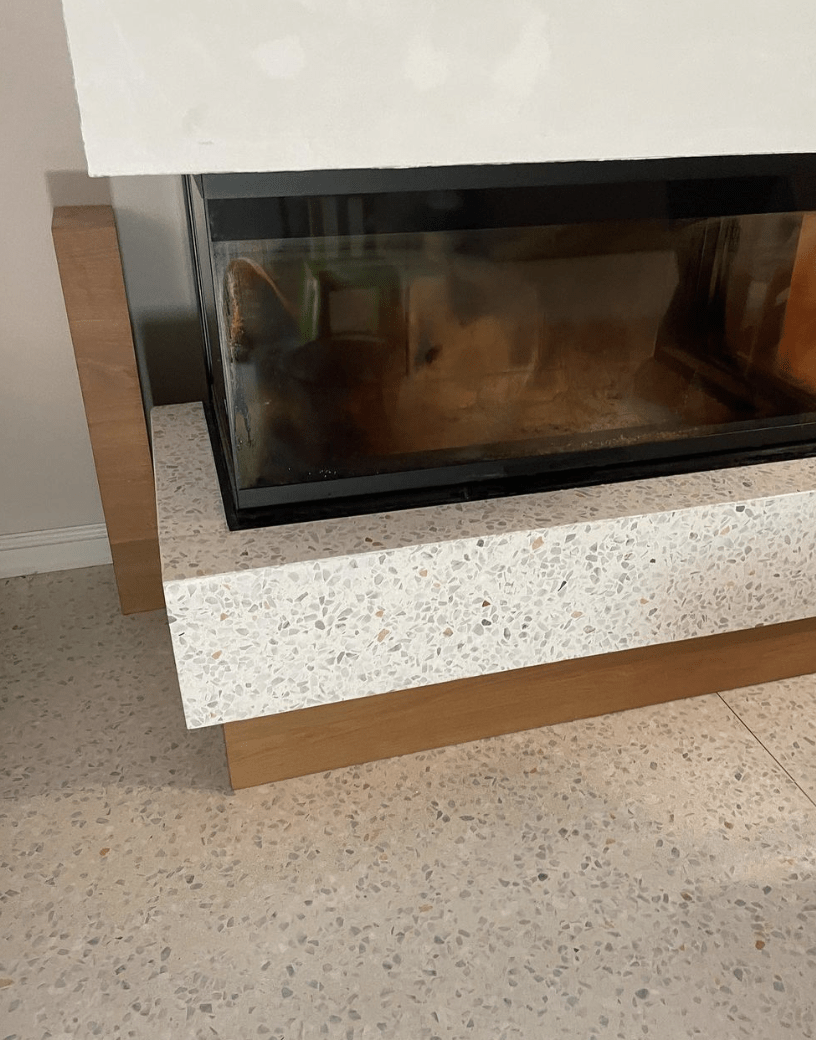 Colorful terrazzo floors provide a breath of fresh air, with the ability to define the color scheme of a room or seamlessly combine with it, and porcelain is the ideal material for high-traffic spaces.
Beautiful, Clean, and Tough
Terrazzo floors are stunning, as bits of shiny aggregate catch the light and create a shimmering effect. Natural stone chips, such as marble, granite, and quartz, are top choices for a terrazzo finish. Still, other types of aggregate are also used, including glass pebbles, synthetic chips, and silica bits in an endless array of colors.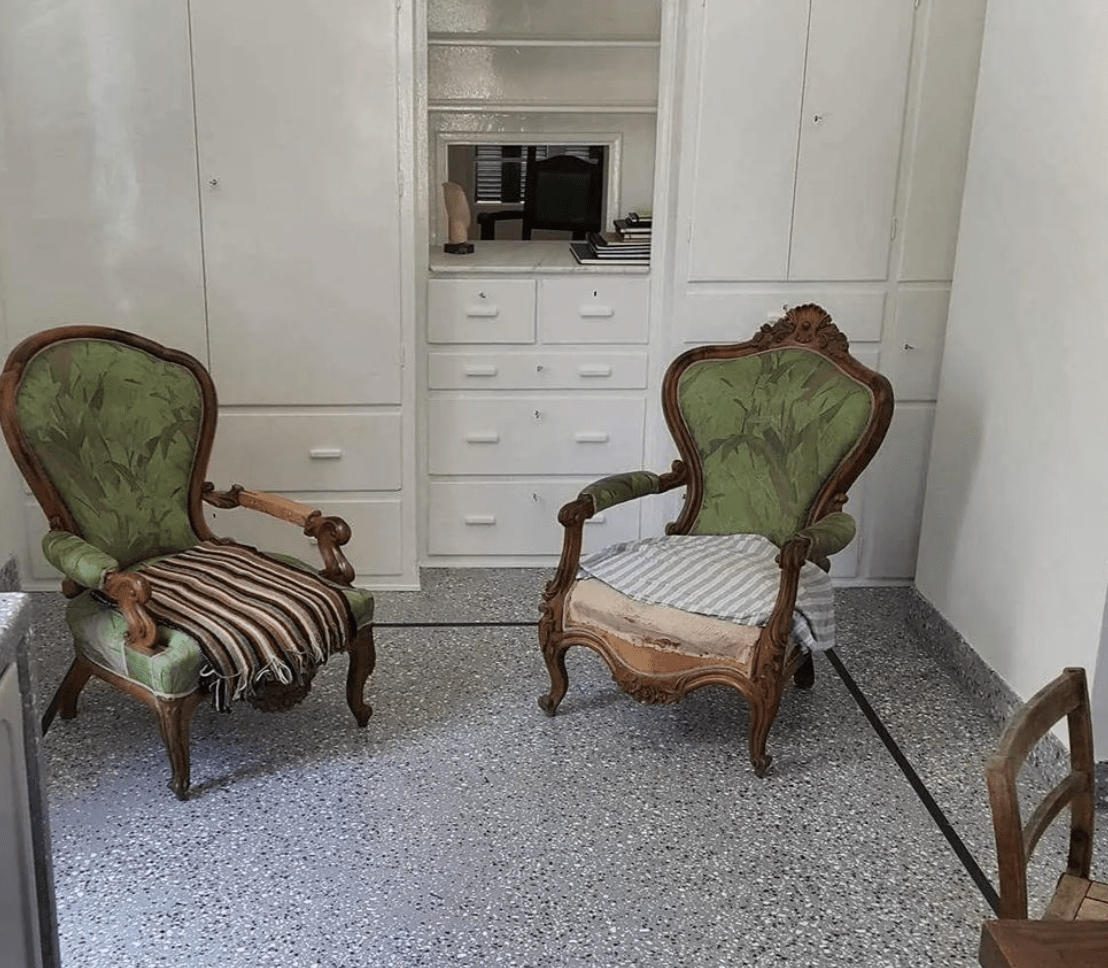 Professional installers can create intricate designs, turning ordinary walkways into works of art. Terrazzo is durable and resilient, and its non-porous nature discourages staining and bacterial absorption, so it's a top choice for high-traffic areas.
Maintaining Terrazzo's Dazzle
Once the installation of terrazzo floors is completed, the surfaces are virtually maintenance-free. Following these few good cleaning methods, though, it'll keep its like-new glossiness for years.
Use a large dust mop to remove surface dust daily.
Wipe up liquid spills right away.
Wet mop when required to remove tracked-in footprints, household germs, and grime buildup using a floor cleaning solution designed for stone floors.
If maintaining a mirror finish is essential, you can use a powered walk-behind buffer/polisher every few weeks or so, available from DIY stores and online. These buffers use spinning pads to polish the terrazzo surface to a high shine. Alternatively, you can rent a heavy-duty buffer/polisher from some construction rental stores.
Avoid using solvent-based cleaners or sealers that can dull terrazzo's polished surface. With care, your terrazzo flooring will last for years, but over time, tracked-in abrasive sand can dull the surface in high-traffic areas. If it gets to the point where a buffing machine fails to restore the shine completely, you can have the floors refinished.
One of the disadvantages of terrazzo is that the surface does not retain heat well during the winter months, making the floor feel a tad cold. Unless you have a heat insulator beneath the terrazzo, this may cause discomfort to those who walk across the floor barefoot.
Estimates can range from as low as $14 per square foot and as high as $90 per square foot for a terrazzo project depending on cost factors. On average, you can expect the total cost to install a terrazzo floor for a commercial building to be $20 to $30 per square ft.
Terrazzo tiles pair well with warm color schemes because they can appear 'cold'. These tiles come in cool and neutral colors that you can brighten up with flashes of color in your interior design. Pick a color scheme with bright, bold colors such as pink, yellow and green.
Terrazzo has definitely been on the rise in recent years. It's not a new style, but it's been having a resurgence in popularity in many areas throughout the home. And it's because this simple material is easy to incorporate into many design styles and aesthetics.
Terrazzo will typically last the lifetime of any building structure, evident in buildings built over 100 years ago. A poured-in-place epoxy terrazzo system will last 40 to 100 years, even longer with proper care.
Some floors crack over time, but terrazzo floors are strong enough to withstand constant pressure. You can even install underlayment over concrete slabs. Anti-crack membranes are designed to buffer any horizontal type movements and reduce cracking.
Terrazzo tends to be slippery when wet—or when dry if you're wearing stockings. Taking a fall on terrazzo floors feels like going down on a concrete sidewalk, so homes with small children or elderly residents might be better off with a different flooring choice.