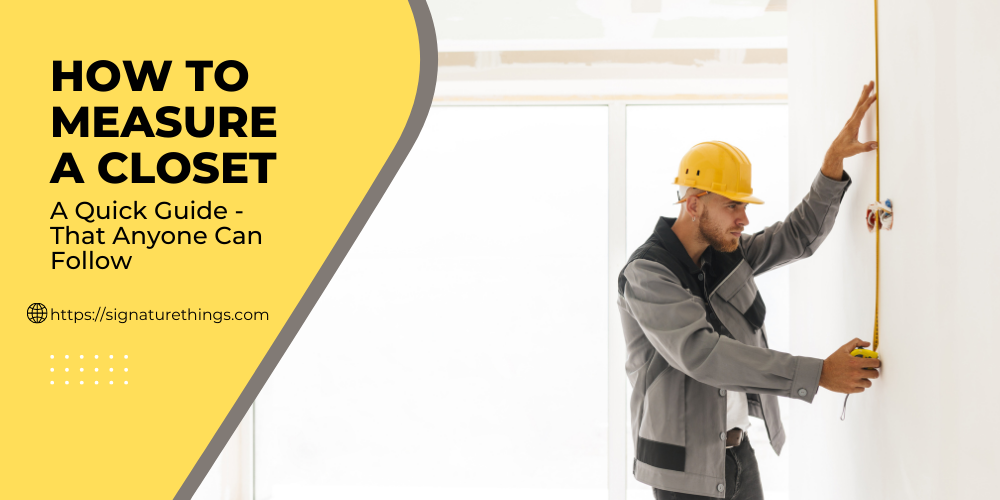 Closet design and planning requires careful measurement throughout the process, beginning with the exact dimensions of your closet space.
All you will need to measure your closet is:
Simple, sturdy tape measure
A pen and paper
SignatureThings How To Measure your closet guide
Are you thinking about adding closet organizers? Be sure you have the right standard closet measurements before you buy any interior organizers to save time, stress, and money. In particular, this is crucial when custom wood parts need to be cut down to size.
Depending on which closet system you're installing, you may have some flexibility in the measurements you take. To install a wall-to-wall system, measurements must be accurate to an exact quarter-inch or half-inch. In floating systems and those installed against one wall, you may be able to use whole measurements instead of fractions.>
Standard Closet Depths: What Are They?
A basic understanding of standard closet diamentions is necessary before build your own closet system. The size of a perfectly square closet is rare, so focus on the measurements that matter based on the items you plan to store in your closet. Below are some guidelines for measuring your closet:
You should have a minimum closet depth of 24 inches if you plan to store clothes. This will prevent hanging clothes from touching the back wall.
When installing an closet organizer with double-hanging rods, remember that to prevent overlapping, you'll need a minimum closet height of 84 inches.
You should space your shoe shelves about 6-7 inches apart, and your clothes shelves about 12 inches apart.
There is a difference in the amount of space each item of clothing requires when hanging. Pants and skirts typically need 1.25 inches each and jackets need 2 inches or more.
Closet Measurement – Steps To Taking An Accurate Measurement
The dimensions of your closet need to align with the goals you have set. Measure it to find out how closely its height, depth, and width match them. To do so, follow these steps:
Measure the Width of the Wall

If you wish to install your closet system on a wall, take measurements at three locations: high on the wall, in the middle, and at the floor (under the baseboard). The smallest measurement is your closet system's width.

Measure From Floor to Ceiling

Your closet's top should be at least 84 inches off the ground-you can always extend this if your ceilings are higher.

Determine the Space Needed for Closet Drawers to Open

The depth of the right and left walls of your closet should be measured so that the drawers can be opened completely without coming into contact with your closet entry walls or doors.

Avoid Measurement Obstacles

In-closet obstacles can impact your measurements. Keep an eye out for light switches, sockets, baseboards, air vents, light fixtures, and any other features that can affect accuracy.
Other Closet Measuring Considerations
New Construction: When you are building a brand-new home and using a blueprint to design, it's imperative that you measure the final space on-site once the drywall has been installed. This will help to prevent unforeseen changes to the final space.
MEASURE TWICE, CUT ONCE: Once you have done your measuring, we recommend you do it again to be sure all the numbers are correct. To ensure that everything goes smoothly, it's worth spending a little extra time and effort up front with proper measurements.
If you plan to install your storage unit around the ceiling or trim it out with crown moulding, you'll have to measure the ceiling height first.
When you get your custom closet built according to your wishes, you will enjoy organized living for many years to come.