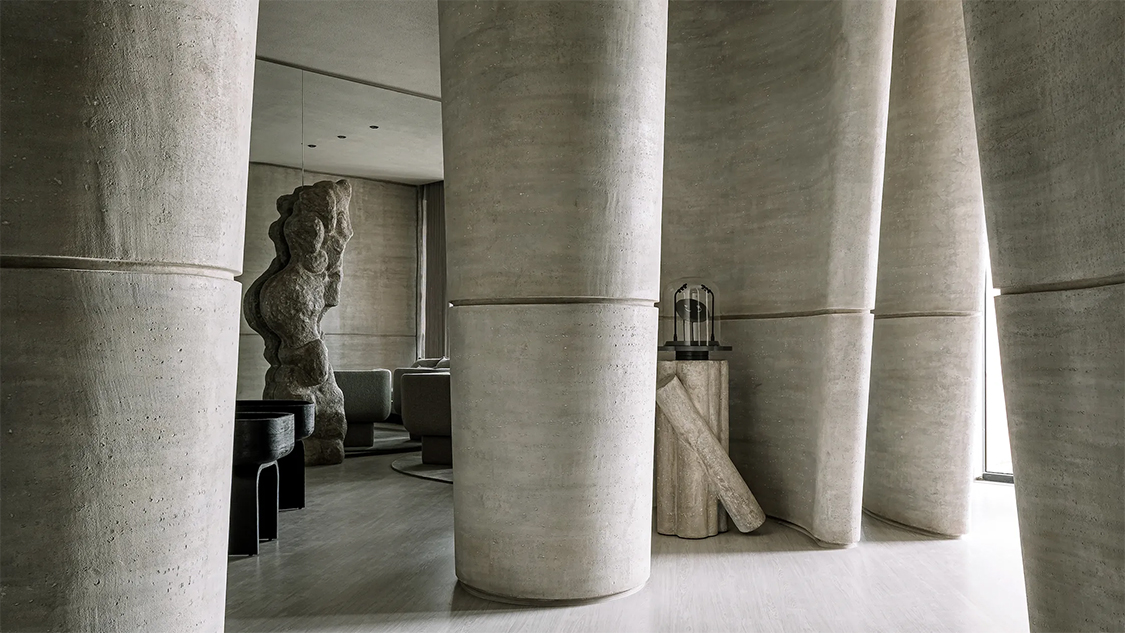 More a showroom than a shop, the first location of Zaura jewelry is a fantastic juxtaposition of elements: Bulky rock vs. dainty filigree jewelry. But the Ahmedabad-based Zaura is a brand willing to be more than one thing and to make bold statements about their nature-inspired essence.
The boutique's interior exudes strength and power bringing into mind an art gallery or a museum. Zaura's product is delicate jewellery designed by founder Urvi Patel. Her designs, set with pavé diamonds, are inspired by nature and feature detailed filigree forms resembling flowers, crystal formations, leaves and heavenly bodies.
And although one might feel that the robust grey pillars and massive rock formations of the studio-showroom and the dainty jewellery have nothing in common, in the end it is all inspired by and formed deep in the earth by nature be it stone, diamonds, silver, gold or platinum.
The collaboration of Patel and her husband Amrish Patel is the secret behind the stunning store. Amrish Patel is co-founder of Apical Reform, one of India's most innovative and progressive design studios that creates kinetic, functional and bespoke art. They are known for using plywood in many of their works including our favourite, the curvy Betula chair made of birch plywood and striking a balance between art, ergonomics and functionality.
To complete the design of the space, Apical Reform worked with another Ahmedabad-based firm, the architecture practice R+R Architects, founded by architect Ar. Raghav Patel and interior designer Id Ramesh Lohar in 2016.
The partitions in the Zaura showroom that look as if they were made of rock are in fact constructed from plywood, using complex digital fabrication methods to mimic the results of erosion in nature. And what seems to be aged lime plaster is actually one of the many custom elements made of metal, fiberglass and glass.
As the by-appointment-only guests move through the showroom's rocky formations, viewing the jewelry in handsome glass bells, they end up in a lounge with a softer seating area where the grey colour palette continues but the upholstered seating, soft carpeting and gauzy drapery create a relaxed, yet professional setting for discussing custom-created jewelry. Tuija Seipell
Photos: Ravi Mistry, The Fishy Project