"I met with a psychic a year ago and she told me that my work with textiles was something that I carried with me through ancestry," says Talia Taxman, founder of woven textiles brand Clr Shop (pronounced "Color Shop"). "Then recently my partner and I were playing around with ChatGPT and I looked up the meaning of my last name and, sure enough, 'taxman' has Yiddish and Ukrainian origin and I guess 'tux' used to mean textile. People carried last names that had to do with what trade they were involved in so someone with my last name was probably a textile merchant."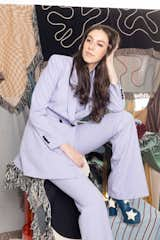 Prior to launching Clr Shop, Taxman was primarily a Brooklyn-based touring musician with an Instagram account called @c___l___r where she shared her bold and colorful visual ideas, which are a stark contrast to the "darker" music she makes under the moniker Rodes Rollins. When the pandemic halted Taxman's tour gigs, she turned to selling her visual artwork—100% cotton, machine-washable woven throws that can be hung as wall art or used as a blanket. After linking up with a manufacturer based in North Carolina, Taxman casually took her samples to Instagram "and it was really wild how quickly it took off," she says. "I think the timing was very much part of the pandemic. People were home, I reached them, and it was magical timing in that regard." The operating team remains tiny—it's just Taxman, her partner Ron, and a friend—but Clr Shop has taken such a life of its own that Taxman's music career has taken a backseat at the moment. She welcomes the change—the brand has allowed her to share a creative vision and connect with fans in a different way.
Earlier this year, Taxman and her partner left their north Brooklyn loft for Berlin since so much of her partner's music work was based there. She mentions that it's far more difficult to find a place to live in Berlin than it does in New York City due to sheer scarcity. "You'll be lucky if you can even get a showing for an apartment; it's almost impossible. It functions more word-of-mouth or through a friend who's ready to sign over their lease to someone else," she says. It's why when a furnished apartment outfitted in basic Ikea-esque pieces miraculously opened up, the couple took it even if the dorm-like vibe wasn't their style. "It needed dressing up so I have Clr Shop throws draped over couches and on the back of our bed and I've disguised a lot of stuff," says Taxman. "I think my style still comes through but this space feels more piecemeal. I really tried to make it feel like home."
Another way Taxman's attempted to bring more warmth into the space is by supporting international artisans that she'd discover at brick and mortars. "I really love having humor and whimsy in my design so I was so excited to buy cowboy boot candle holders when I first moved here," she says of the gem she found at Berlin boutique VooStore. "It's super high fashion, super designy, and I can't afford most of the things in it, but it's fun to look at. It was my first home purchase here that really felt like me." Other examples include a polka-dot pot, a puzzle that displays surreal artwork when completed, and edgy rectangular planters.
 As an American living in Germany, Taxman likens her shopping experience to that of a tourist: "I am drawn to collecting mementos that represent a time or place in my life rather than me just going out and filling up the house." 
"I'm a Colorado girl at heart, and my love for cowboy boots is well-known. I've incorporated crazy shoes into my music work as Rodes Rollins for years and pay homage to them in my visuals for Clr Shop—each blanket gets its own pair of shoes in our product photos. When I moved to Berlin, I was thrilled to discover these Hot Legs Cowboy Boot Candle Holders at Voo. These handmade treasures add a cute and playful touch to my space, bringing a hint of Western sass to my new home abroad."
"Souq Dukkan, one of my favorite boutiques in Berlin, offers a stunning array of small batch and handmade items, many by Turkish makers curated beautifully by owner Yaprak Aras. Among them is the Muz terracotta pot with painted polka dots. Polka dots are a timeless and whimsical choice for adding character to any space, and I've always liked to infuse a sense of playfulness into my home because life's too short to be too serious."
"I didn't realize I was a puzzle person until I sat down with a Liberty Puzzle. Their puzzles are works of art down to the individual pieces! They are super challenging and unconventional, which I love. The puzzles are made out of high-quality wooden shapes that can make cute ornamental decorations around the house when you are done with your puzzle. We love to hide little animals and shapes around the house—they make for sweet little discoveries each time you sit down and look around your space."
"I've been following Kara Rose's work at Tuft Luck Studio for a while now. I'm truly a huge fan! Her captivating cowboy art never fails to inspire me. I think her pieces could make for really special gifts too."
"I'm loving rust-colored anything these days, especially when it comes to planters. The Corten Span Planter is part of a larger series of planters that rust over time. The planters arrive unrusted, but they encourage you to speed up the rusting process by using hydrogen peroxide, vinegar, and salt. This is a timeless look to me, and pairs well with just about anything."
"I'm sticking with a polka dot theme for this guide, and I'm excited to highlight our Denim Dots Kitchen Textile! Like all of our pieces, we make these textiles to order. They are made of a waffle weave which gets softer with each wash. These versatile and functional pieces can be used as tea towels or placemats, adding a vibrant splash of color to your home decor."
"The Farmhouse Woven Throw has quickly become a fan favorite over here at Clr Shop, and it's my favorite as well. I love the patchwork design and the color palette of this piece. It's a classic you can keep for years to come. It's also a design that I think suits a bunch of different aesthetics. I could see this piece in a country home or in a more modern, urban space. I keep mine on my bed."
We love the products we feature and hope you do, too. If you buy something through a link on the site, we may earn an affiliate commission.
Related Reading:
Wooj Founder Sean Kim Searches for Utility in Unconventional Textures
Danny Kaplan Has a Deep Appreciation for Patiently-Made Objects