When it comes to home improvements, whether it's decorating the living room or insulating the loft, there is often a choice to be made. Should you call in the professionals, or could you save a lot of money by doing the work yourself? We look at ways in which you can build DIY skills and learn the tricks of the trade to cut the cost of improving your home.
Know when to steer clear
Some tasks are just about manageable for amateurs, even if it takes a while to get it right. Arguably, jobs such as painting and decorating, simple tiling, resealing a bath, changing a washer or even installing new taps, can all be tackled with patience and the right tools – especially if you are prepared to accept that the end results may not be perfect.
However there are some tasks you shouldn't even start. Jo Behari, a DIY expert and author, says it is illegal to do gas and certain electrical work in England if you are not qualified. "People can die if it goes wrong."
And, says Charlie White, who runs a DIY YouTube channel: "In any home built in the 1970s or before, you should worry about asbestos."
You will definitely require professional help if there is any risk that your home contains this hazardous material.
Get the basics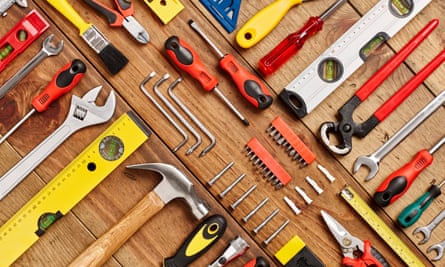 You need a basic tool kit. Experts recommend including a measuring tape, screwdrivers, hex keys (also known as allen keys), a spirit level, a claw hammer, a scraper tool and safety equipment such as goggles (if the budget is really tight, glasses or sunglasses can be used for less dangerous jobs, such as sanding).
Behari also recommends rubberised gloves: "They will improve your grip and make it easier to use tools." White recommends a Stanley ratchet screwdriver and a Purdy 10-in-1 Multi-tool.
Or invest in a ready-made kit – this week Screwfix had a Magnusson 40-piece for £54.99 – or build up your own as and when you need tools. But don't go for bargain basement options, Behari says. "Cheap tools will be made from plastic parts and, for any tool, but power tools especially, that causes them to fail, which means the job isn't getting done properly. And then you feel like you've failed and can't do DIY, when actually it is the tool that failed, not you." You don't need to invest in the priciest – mid-range tools should be good enough.
When painting, Michael Rolland, the managing director of The Paint Shed says: "A high-quality brush and roller can make a huge difference to a finish."
Don't buy – borrow
An often repeated but not easy-to-source maxim has it that, on average, an electric drill is used for only 13 minutes in its lifetime. Whether or not that's accurate, it's certain that most tools sit idle for a lot longer than they are in use.
Why buy when you can borrow? "There are tool libraries around the country that allow people to hire or borrow for relatively cheap, or even for free, for a weekend or a week," Behari says.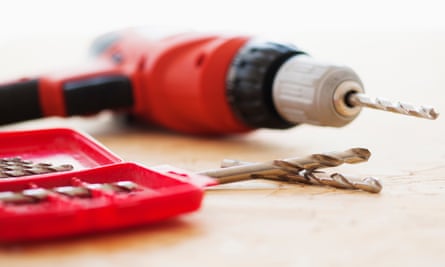 Ethical Consumer's directory features a Library of Things across the UK, from Devon and Somerset to Hull and Edinburgh. One is opening in Manchester this year.
Charlotte Thorpe, a spokesperson for Library of Things in London and Brighton, says: "We are a social enterprise, and we began with a shoestring experiment run out of a shipping container, then our first official home was in Crystal Palace library in 2018. Since then, we've worked in partnership with local authorities and circular businesses to set up a Library of Things in different neighbourhoods."
Anyone can sign up to the platform to get emails and updates on events and skill shares for free, Thorpe says.
"We charge a £2 membership fee at the point people make their first reservation." After that, you can borrow heat guns and moisture detectors for £3 a day, and a cordless drill is £5 a day. "We offer concessions for those who need them," Thorpe says.
Another way to access tools is a peer-to-peer rental service such as Fat Llama. While it is mainly known for camera and photography gear, it also has substantial listings for DIY equipment. And if you have amassed a library of tools at home, you may be able to earn a little money by hiring them out through the platform (Fat Llama takes a 25% fee).
Don't skimp on quality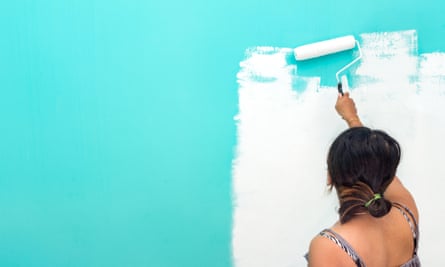 "Cheap paint is going to involve lots and lots of coats, so you have to buy more, and then it takes more time because you're painting for a lot longer," Behari says.
"The very expensive brands are not necessarily worth the investment, and you can colour-match really easily to get the same shades in less pricey paints. But make sure you use a good, reputable brand."
White, meanwhile, recommends buying trade paints used by the professionals, such as Johnstone's Trade or Dulux Trade. "You'll get a better finish," he says.
Do the prep
"Before you start any job, however simple, research, research, research," says White. Even something that seems straightforward, such as hanging a picture, can be frustrating if you're unprepared – you could end up buying the wrong items and wasting money, as well as damaging the wall or the picture.
"For a very heavy picture, you're going to want to put a screw into the wall, and that is going to involve drilling and putting in a wall fixing – which means figuring out whether it's a hollow or solid wall first," says Behari. "A solid wall will involve you using a masonry drill bit and using your drill on a hammer setting; a hollow wall will involve you using your drill on a normal setting, and a wood drill bit is sufficient because a hollow wall is made of plasterboard, which is just chips and plaster between two sheets of paper."
For painting projects, Rolland says: "A mistake a lot of people make is not correctly preparing the surface." If the walls are in good condition, "get rid of dust and give the walls a thorough clean with soapy water. For surfaces exposed to grease, swap out soap for washing-up liquid or another degreaser to cut through the grime."
Wash again with clean water to get rid of residue, and wipe with a clean damp tack cloth.
Learn how to apply and remove masking tape correctly – "this is key to achieving crisp lines", Rolland says. And, he adds, "cut in" first – use a brush to paint all the corners, along the ceiling, skirting lines and around windows before you start on the walls with a roller.
Wrapping a roller or brush in clingfilm is a time-honoured way of making sure they don't dry out, so you can pick up painting where you left off the next day. But when you have finished, be disciplined about cleaning brushes and tools – it could save you money.
Rolland says: "Properly cleaning your paint brushes is crucial for their optimal performance. It is best to clean them as soon as possible after use. However, if you can't clean them immediately, avoid letting the paint dry out on the brushes – and resist the temptation to use a wire brush to remove the dried paint; this will damage the bristles."
And look after your tools, says Mirella Ferraz of the Share Shed lending library in Devon: "A lot of people throw tools out when they become blunt but there is usually no need. We run workshops on tool-sharpening to help people avoid doing that."
Build a skill set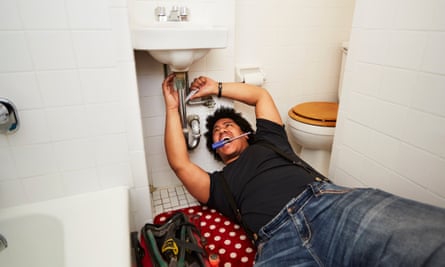 The first place to start researching a project is usually TikTok or YouTube – and there are plenty of channels to try. Aside from his own, White recommends James at Plumberparts for all things plumbing and Keith at Rag 'n' Bone Brown for woodworking. Elsewhere on the web, the DIY store Wickes has a wide range of step-by-step guides.
In some areas the Library of Things run repair and skill-share workshops, and colleges around the UK offer DIY classes covering everything from laying a patio to basic plumbing.
Bricoteca, a Spanish firm that opened its first branch in London in November, runs small-group classes in essential home improvement skills at its Wandsworth workshop.
A four-session DIY Survival course costs £165, and classes include basic electrical skills, repair of damaged wood and tiling. Other classes include installing insulation, plastering and basic carpentry.