In Miami's world of luxury living, sun, sand, and sophistication come together in a perfect blend.
If you have ever been daydreaming about a carefree life surrounded by first-class facilities and stunning views, with the city excitement right at your doorstep, you're at the right place!
Today we'll take you on a journey through Miami's best luxury condominiums, where elegance and modern living create a truly unique experience.
By taking a closer look into three of the most in-demand Miami places, we'll discover the beauty of a luxurious lifestyle that's completely unique to this vibrant city.
Are you excited?
Then let's dive in!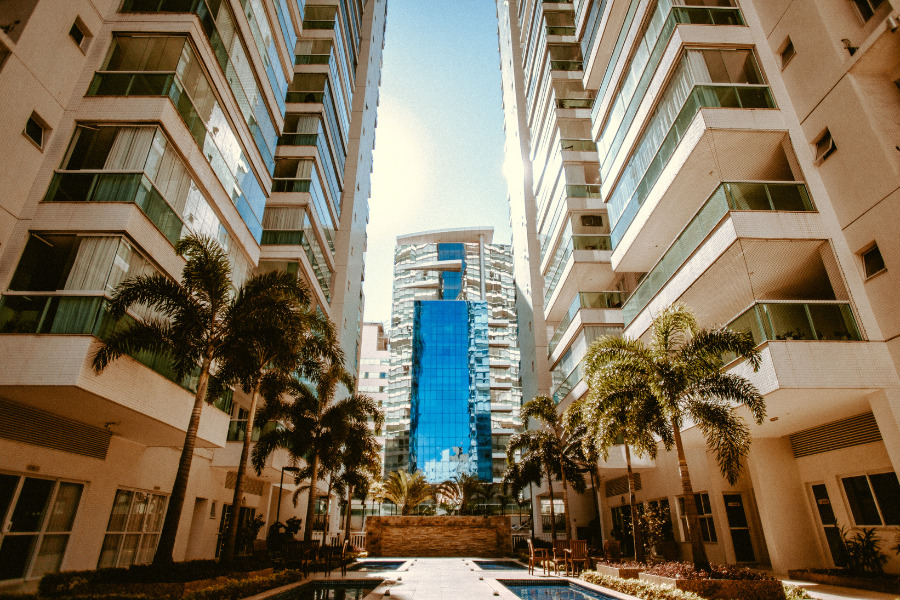 Finest Luxury Condos in Miami
Missoni Baia Residences
Missoni Baia Residences, situated in East Edgewater, was built to offer stunning views overlooking Biscayne Bay. The construction was completed on July 12th, creating a lot of excitement among those eager for a sophisticated waterfront lifestyle.
This luxurious condo building is home to 249 units across 57 stories, where residents can choose from one to five-bedroom apartments, ranging from 776 to 3,788 square feet in size.
Each unit is thoughtfully crafted to manifest sophistication while at the same time providing comfort, as spacious floor plans give plenty of room for residents to decorate the living space according to their personal style. With breathtaking 270-degree views stretching from the city to the ocean, these high-end units feature private elevators, high ceilings, spa-inspired bathrooms, and gourmet kitchens.
Missoni Baia will also include a number of luxury amenities for its residents. 
The lobby level will welcome each of them with valet parking, a bayside terrace, and access to a scenic bay walk. While other floors will have a variety of exceptional utilities such as a hair and nail salon, a kids' club, a pet spa, a spacious gym for fitness enthusiasts, and a private yoga studio.
On hot sunny days, the Olympic-size pool, the whirlpool spa, and the poolside daybeds are meant to make Missoni Baia the perfect place to be.
Una Residences
Una Residences is an upcoming luxury condominium tower located in the heart of South Brickell. With its 47 floors and 135 units, this pre-construction masterpiece is set to be completed this year.
The units in this building offer a range of two to five bedrooms, spanning from 1,098 to 5,455 square feet, and have been thoughtfully designed to provide an exceptional living experience. Residents here can enjoy the luxury of private elevators, high ceilings, gourmet kitchens, and spacious balconies.
This condominium offers an impressive selection of luxurious amenities that cater to the needs and desires of all types of residents. Multiple pools, a soothing jacuzzi, a fun-filled kid's splash pad and a lounge area will provide a haven of relaxation. 
As for the private dining/party room with a fully equipped catering kitchen dedicated to hosting memorable events, it will surely provide an opportunity to show off the advantages of living in one of the most luxurious Miami condos.
72 Park Miami Beach
This remarkable 22-story tower is located on 72nd Street in the North Beach quarter of Miami Beach.
It's set to be completed in early 2024 and will offer 206 contemporary, fully furnished condos with stunning views of the Atlantic Ocean, Miami Beach, and the downtown skyline. 
Looking at the 72 Park Miami Beach floor plans, we can notice the domination of the open and modern style, with each residence designed to exude comfort and luxury. From the huge private balconies and open and airy interiors to the floor-to-ceiling sliding glass doors and European-style kitchens and bathrooms, 72 Park is set to make high-end luxury living attainable.
The exclusive amenities span over 64,000 square feet, featuring a resort-style pool, an open-air cocktail bar with cozy cabanas, a state-of-the-art fitness center, a kids' playroom, and a pet spa. 
Moreover, a coworking lounge, equipped with private pods and high-speed fiber-optic wireless internet access will help its residents stay connected and work seamlessly within the comfort of their residential area. 
Wrapping up
Luxury living in Miami can be at your fingertips with these top-tier condominiums. 
Missoni Baia Residences in East Edgewater offer stunning views and exceptional amenities. Una Residences in South Brickell impresses with thoughtful design and lavish features, while 72 Park in Miami Beach provides fully furnished residences and resort-style amenities. 
These exclusive properties redefine deluxe living, offering panoramic views, calm surroundings, and top-notch services. Conveniently placed in Miami's most sought-after locations, residents will undoubtedly experience the essence of luxury, sophistication, and comfort.