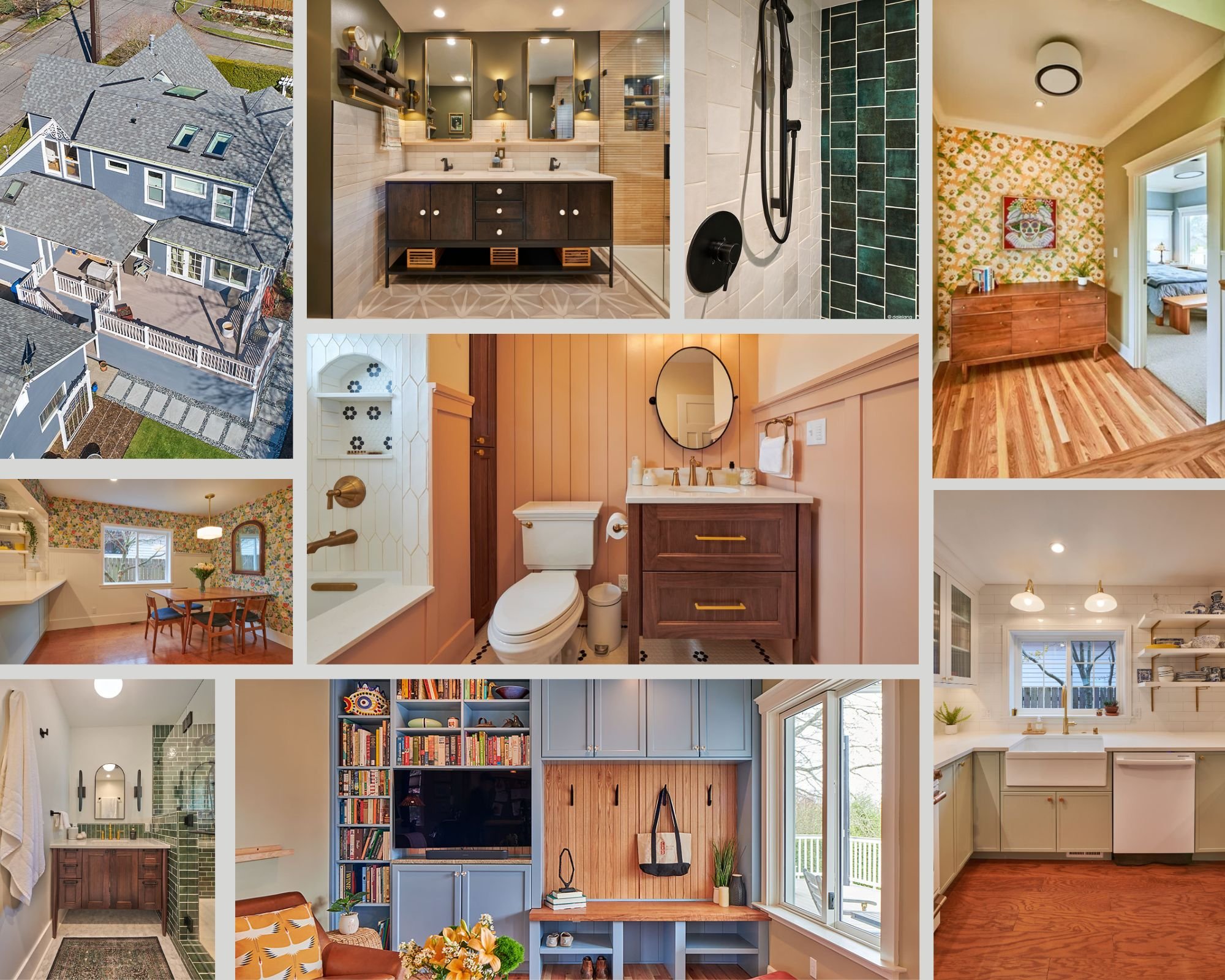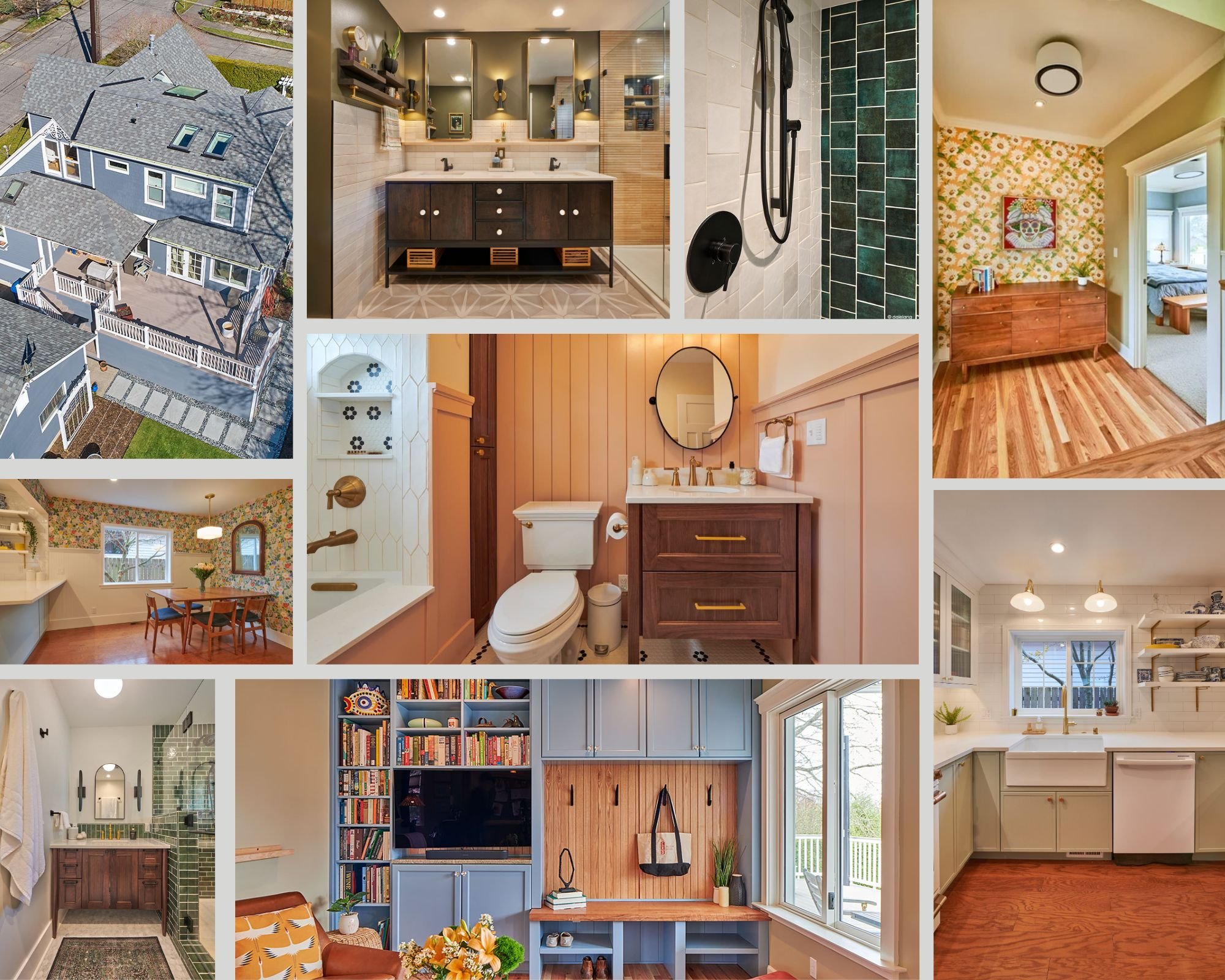 Today we are showing off recently completed projects that encapsulate creativity, innovation, and the power of transformation. These projects not only demonstrate our dedication to bringing visions to life but also reflect the diverse spectrum of inspirations that fuel our work. From revitalized living spaces that breathe new life into homes to ingenious solutions that enhance functionality and aesthetics, this compilation showcases a wide variety of homes and projects. Step into a world where design dreams become reality and where every project is a story waiting to be shared.
Ravenna Primary Suite & Guest Bath
Click on each image to see the hi-res version
The goal for this project involved a complete reimagining of the second-floor layout in response to the family's vision of having a primary suite. Originally, the second floor had just one shared bathroom for all the bedrooms. However, given that both the guest bedroom and their child's room were located on this level, the need for an additional bathroom became apparent. In addition to this extra bathroom, the family expressed a longing for an exclusive primary suite, complete not only with a bathroom but also a compact office nook or cozy sitting area. This aspiration led us to remove the wall between their underutilized office and the primary bedroom.
Overall we transformed both the existing second-floor bathroom and the new primary suite bathroom. In the original bathroom, we modified the layout to enhance its sense of spaciousness, adorning it with a lovely hue of pink paint and a juxtaposition of black and white tiles that gives the space a blend of timeless and contemporary charm. For their primary suite bathroom, we opted for an alluring dark green wall tile paired with a hexagonal floor tile that emulates the look of marble, presenting a modern reinterpretation of a traditional aesthetic.
Maple Leaf Kitchen Update 
Click on each image to see the hi-res version
Our Home Services team breathed new life into this kitchen and was able to preserve the cherished layout and flooring. While our clients adored the existing layout, they sought to transition from the original retro aesthetics. The transformation included new cabinets, fixtures, and wall coverings that completely revitalized the area. Striving for a classic kitchen that aligns with their affinity for vibrant hues, we introduced mint green cabinets and lively floral wallpaper. Overall, this kitchen underwent a remarkable upgrade, achieving a rejuvenated ambiance, all without the need for lengthy permit procedures.
Fremont Bathroom – Home Services
Click on each image to see the hi-res version
Our Home Services team turned a modest and outmoded basement bathroom, devoid of adequate storage, into a functional and aesthetically pleasing space. The revitalized bathroom offers increased storage capacity and a functional countertop area. By ingeniously rearranging the sink and toilet placements, we carved out space for a generously proportioned vanity, a departure from the original solitary sink. Responding to the homeowners' preferences, we forewent another bathtub and instead replaced it with a spacious walk-in shower, adorned with a vibrant turquoise tile that injects a lively burst of color into the space.
Whittier Heights Three-Story Addition
Click on each image to see the hi-res version
This home was in the perfect location but was lacking the essential space and storage required for a growing household. In order to give this family the most benefit, a three-story addition was added. This included an expansion of the basement to accommodate an ample playroom and storage area, the main floor, and top floor reconfigurations. On the main level, significant enhancements were made, including an enlargement of the kitchen, the addition of a new guest suite, and the creation of a welcoming family room. We created a stunning primary suite with vaulted ceilings on the top level, including a generously-sized walk-in closet, and an en suite bathroom for added convenience.
This home boasts a charming gingerbread aesthetic as well as an array of period-specific architectural features on its exterior and it was important to us to maintain the same charm. By meticulously replicating these original elements on the new extension, we've succeeded in retaining the home's allure and character. 
Roosevelt Kitchen Update – Home Services
Click on each image to see the hi-res version
This kitchen transformation changed the space into a sleek, all while, usable space while sidestepping lengthy permit waits since there were no major structural alterations. The kitchen was truly transformed as we removed all the old cabinets and the weathered wooden flooring that clashed with the adjoining living room's aesthetics.
In its place, we reimagined the layout and installed sleek marble-look tile along with all new cabinets. By removing the original peninsula, we created a more open feeling in the kitchen. Heightening both functionality and aesthetics, we seamlessly integrated full cabinets adjacent to the refrigerator, effectively replacing the initial open shelving and adding to the overall storage capacity and visual appeal of the space.
N. Seattle Primary Bathroom – Home Services
Click on each image to see the hi-res version
Our team updated this primary bathroom from awkward and impractical to a realm of both functionality and exquisite aesthetics. To align with the aesthetics of their home, they went with a mid-century modern concept embellished with elements of nature-inspired tranquility, crafting a sanctuary that resonates with their unique essence.
We carefully reconfigured the room to accommodate their new two-sink vanity, which provides more storage and a sprawling countertop beside their capacious walk-in shower. Since it was essential to have abundant storage, our solution encompassed a fusion of open shelving, an expansive vanity, and a shower niche adorned with corner shelves— a symphony of design ingenuity that maximized storage potential and offered a canvas to display decorative treasures, elevating the space into an opulent realm of luxury.
Collaborating with CRD
Collaboration is the cornerstone of any successful remodeling project as the knowledge and experience of those working on your team will save you time, money, and unnecessary stress. Let us help you craft the perfect space for relaxation, rejuvenation, and blissful slumber. Our team will provide expert guidance, creative insights, and valuable suggestions to optimize your home remodel. Reach out today to set up a complimentary introduction call to discuss your ideas and discover if CRD Design Build is the right fit for you!