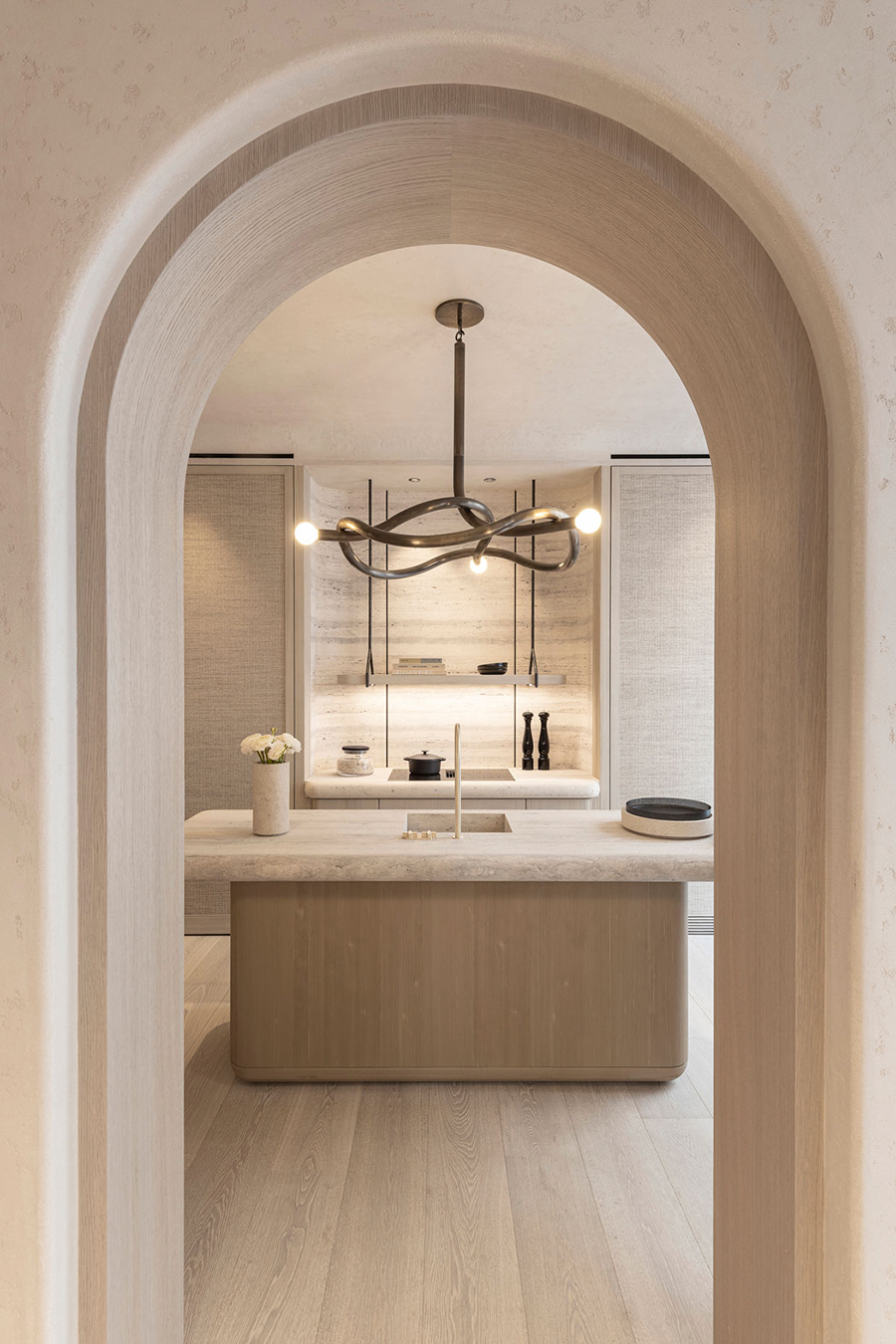 Obumex, the Belgian studio known for handcrafted luxury kitchens as well as complete interiors and renovations has opened its first showroom in Paris. Located at 23 Rue de Lille in the 7th Arrondissement, the showroom joins the company's other outlets located in Belgium: The head office and showroom in Staden and showrooms in Knokke and Ghent. Obumex also has representatives in New York, Toronto and Vancouver.
The Paris showroom's kitchen display is a gorgeously sublime study in textures in stone, wood and fabric. Like a perfectly executed bowl of café au lait, it invites contemplation and serenity instead of frantic activity.
It avoids the shiny appliance- and tile-heavy industry of a typical kitchen by hiding as much as possible in the tall fabric-covered closets that have replaced the standard up-and-down rows of cupboards.
Rounded corners balance the stony hardness of the central travertine worktop, and the same rounded shape repeats in the furnishings and the arched doorway. The large dark-brass Tryst Three chandelier by the Zambia-born, New-Delhi-based Paul Matter above the worktop helps tilt the overall feel away from pastelly cuteness toward an art gallery vibe. Matter's Tango pendant perches above the small seating area.
Obumex was established in 1960 by Eli Ostyn in Belgium. It started with school furniture but quickly moved into kitchens and Eli's son Geert took over. Today Obumex is a full-service design firm with Geer's son, Thomas as the CEO leading a 100+ team of employees.
Obumex has remained an independent, family-owned business not associated with any specific brand, which has given the company the freedom to be flexible, and to evolve and innovate. Obumex works with well-known designers and architects including John Pawson who designed the company's first mass-produced kitchen in 1996. Other collaborators include Joseph Dirand, Vincent Van Duysen and Nicholas Schuybroek. Tuija Seipell
Images by Verne