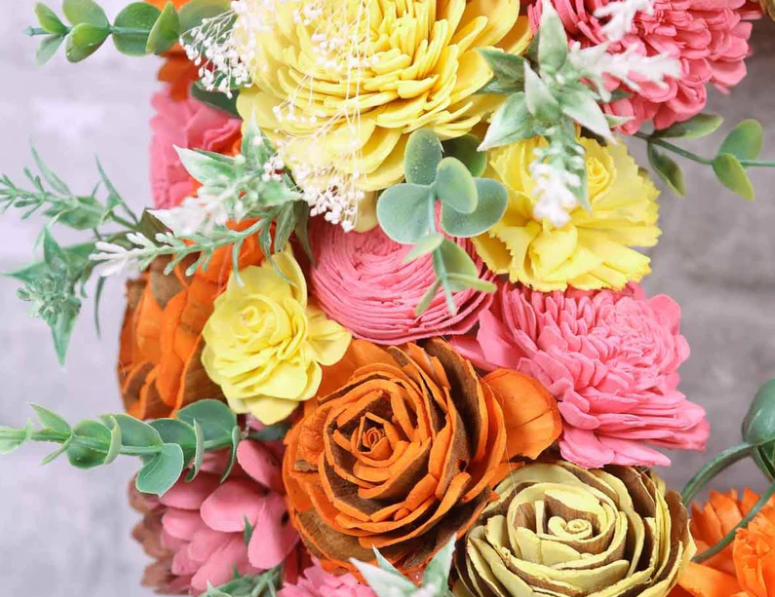 Let's face it, fresh flowers are wonderful to have at your home, but they aren't always the most economical. Fresh flowers can be very expensive, and they don't always last as long as you might wish. Before you know it, your beautiful flowers are wilting and fading, their petals and leaves falling quickly away. It can seem like a huge waste of money, especially if the flowers didn't last as long as you wanted them to. Especially nowadays when many of our budgets and wallets are a little tighter than they used to be, it is important to know how to save money without sacrificing the style of your home. Luckily, there is a great alternative to fresh flowers if you love a bright burst of flowers as part of your home decor: Sola Wood Flowers. Here are a few of our favorite unique ideas that will help you to use Sola Wood Flowers in your home decor choices. We hope you enjoy these ideas and have a happy time creating your flower decorations!
What Are Sola Wood Flowers?
First, let's answer the question that is undoubtedly in your mind right now. What are Sola Wood Flowers anyways? These gorgeous, realistic flowers are made of tapioca root, which is a wood-like substance. This material is hand-processed, shaped, and formed to look like real, fresh flowers, but unlike fresh flowers, these wood flowers will never wilt away. Since the tapioca root material is carefully dried and processed, these flowers will be flexible, fresh, and beautiful for many years to come. You can dye them any color of the rainbow, arrange them, and disassemble and rearrange them time after time. These flowers are affordable to start off, but when you're able to reuse and repurpose them so many times, they become well worth the money many times over.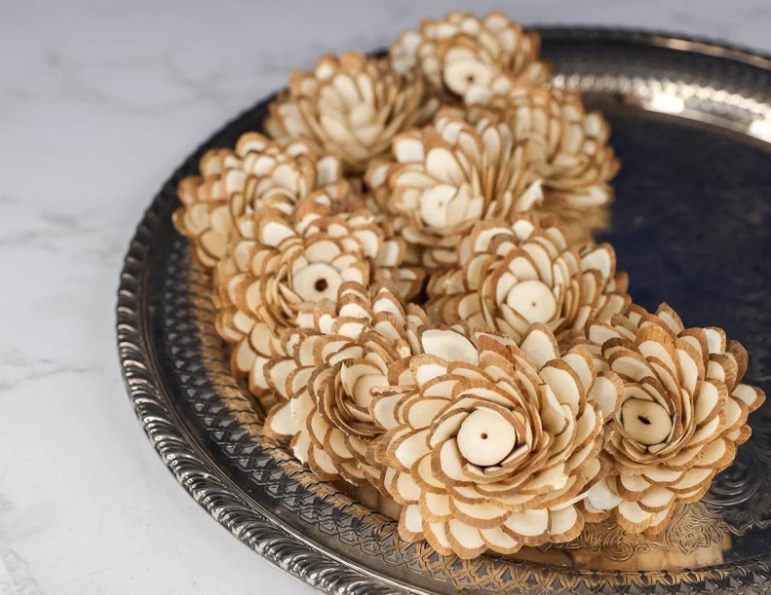 What Unique Decorations Can I Make With Sola Wood Flowers?
Door Wreath
Your Sola Wood Flower door wreath won't be like every other run-of-the-mill wreath that you see at your local craft store. This wreath will be entirely unique to you and your personal style. Plus, you can reuse and recreate your door wreath for different seasons and occasions by adding different colors of wood flowers and floral filler to your wreath. For example, if you've created a neutral wreath for the summer, you can add rust-toned flowers for the fall and winter berries for the holiday season. This is a gorgeous and easy way to elevate your home's curb appeal.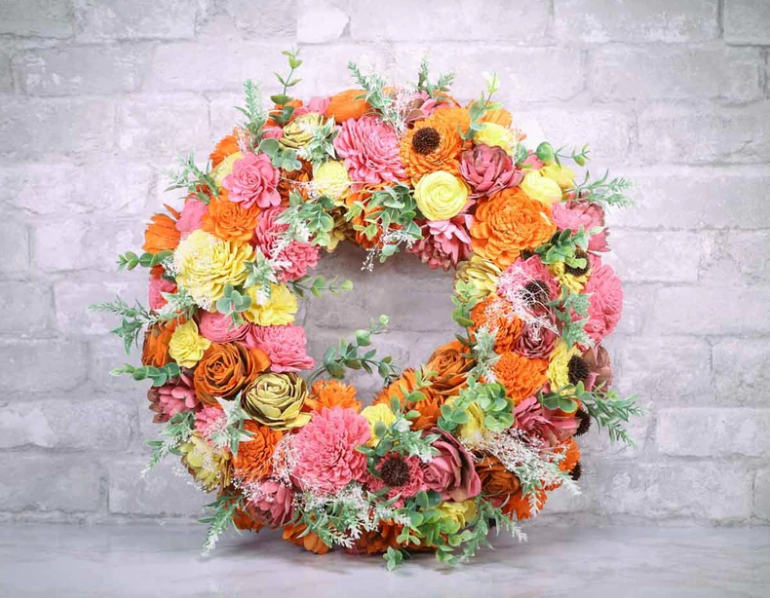 Scent Diffuser
Do you love smelling sweet fragrances in your home but don't love all the extra chemicals and substances added to manufactured air fresheners? If so, you can create your own scent diffuser with Sola Wood Flowers and some reeds. To make this DIY home decor piece, you'll just need to pour your desired scent into a diffuser glass, add your wood flowers stemmed with reeds, and enjoy the wonderful smell of your home! The scent will be absorbed through the reeds and wood material of the flowers, diffusing it into the air of the nearby area. Not only will this scent diffuser smell incredibly good, but it will also dress up the look of your home, adding an elegant touch of style. There are many reasons for using scented flowers in your home decor. A good-smelling home can help to establish a warm, comfortable (and even romantic) environment that you'll love to be in. You can have fresh, fragrant scents added to your wood flowers when you order them but you can also add your wood flowers to a scent diffuser decoration.
Fireplace Mantle Garland
Do you have a mantle above your fireplace that looks empty and lonely too often? Perhaps you have a holiday garland that you like to decorate your mantle with around Christmastime, but if it remains bare throughout the rest of the year, you're truly missing a great decor opportunity. With Sola Wood Flowers, you can create a garland that will work for any season, holiday, or event of the year. You can start off with a base of neutral-colored wood flowers and greenery that will look great throughout the year. Attach your floral bunches together with floral wire to create a long garland. When a new holiday comes up, you'll be able to easily add different colored flowers and floral filler to make your garland fit the aesthetic you desire. Your fireplace will never go empty again when you have this gorgeous garland. You can even reuse it as a centerpiece garland if you want an extra fancy event tablescape.
Floral Wall Hanging
There are a few different types of floral wall hangings that you can make with Sola Wood Flowers. If you have a wall vase handy, you can create a pretty floral arrangement that will drape down from your wall in a romantic and elegant way. For a more modern decorative arrangement, you can also make floral monograms or spell something out with giant floral letters. This would be especially fun for a nursery or girl's room. If you're going to be hosting a big event or party, you can try a big-impact idea by creating a floral wall. You'll just need a piece of plywood (or similar, sturdy material) and then you can attach all the flowers you'd like to the wall. This will create a stunning backdrop that is a big attention-grabber and conversation piece at your party. 
Floral Centerpiece
Floral centerpieces aren't only for weddings and fancy events. They can also make a big impact on your home decor. You can truly elevate the look of your tablescape with a gorgeous floral centerpiece. From bud vase centerpieces to traditional bouquet centerpieces to modern floral head arrangements, there are many creative centerpieces you can arrange. You can even make your Sola Wood Flower centerpiece even more seasonal by mixing up your vase options. For example, you can use a pumpkin (real or faux) as your vase to create a beautiful fall centerpiece. For the holidays, you can use a sparkly vase covered in festive holiday colors. For springtime, try a blue and white ceramic vase for a fun pop of color. For another bright and fun option for the summer, you can put your flowers in a terracotta vase.