This Post May Contain Affiliate Links. Please Read Our Disclosure Policy here
Did you hear the news?
No, my kitchen isn't quite finished so I don't have that reveal ready just yet (although it is starting to feel so cozy because I've been styling my glass cabinets!) … but believe me — this reveal is even better than a kitchen, so much more exciting!
Y'all … this February I'm going to be a …. grandma!
My empty nest won't feel so empty any more! My daughter Courtney is having a baby! 
You can watch the adorable announcement video on Instagram here.
Scroll down for a few pics and other exciting announcements.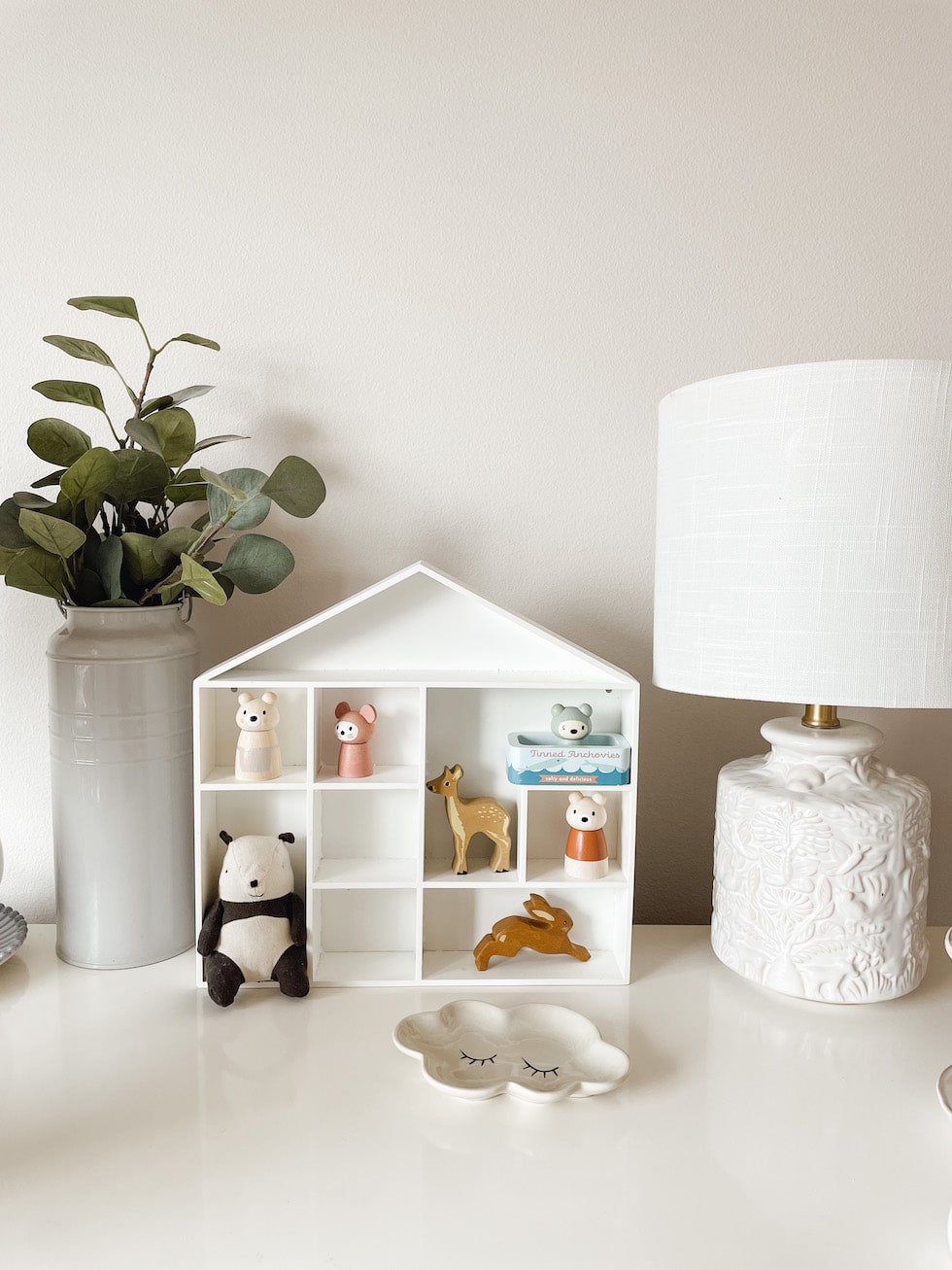 ---
Above is the nursery in the townhouse Courtney and her husband just moved into– I love that little window seat!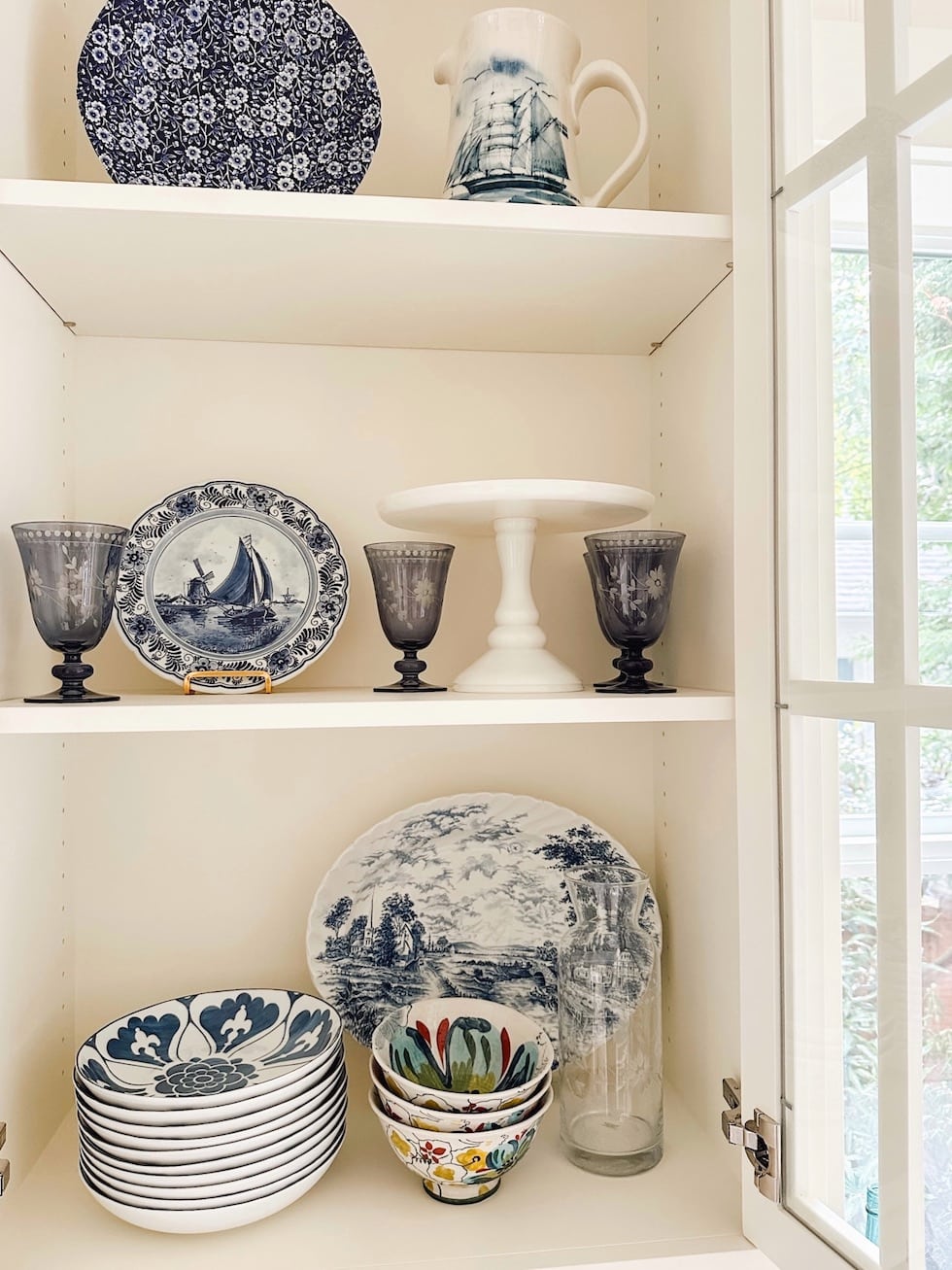 It's been a long six months of projects in our kitchen and with the flooring and paint and the Tiny Cottage, but now I'm sooo glad we got all of our big projects out of the way before the pitter patter of tiny feet. 
I feel like I've been in a slump most of the summer waiting for the contractors to be done and out of my house, but I am hopeful they will finish the final punch list soon (that's what they call the last remaining items to be done).
I'm always a bit out of sorts when the house is unsettled (and the past few days we had to move most everything for painters, so that really threw me off!).
However, we continue to make progress in whatever ways we can. One of my favorite things so far has been styling my glass cabinets and shelves! I'll have to do a whole post on this, but here's a little sneak peek for you! I have always loved collecting dishes but really haven't had a good place to display them in a long time. Designing cabinets to display seasonal or pretty things we love, and plenty of drawers for hiding things we don't 🙂 was a priority for me in our new kitchen. As you can imagine, I will have fun with these glass cabinets in every season. Personal collections make our home feel like home for sure!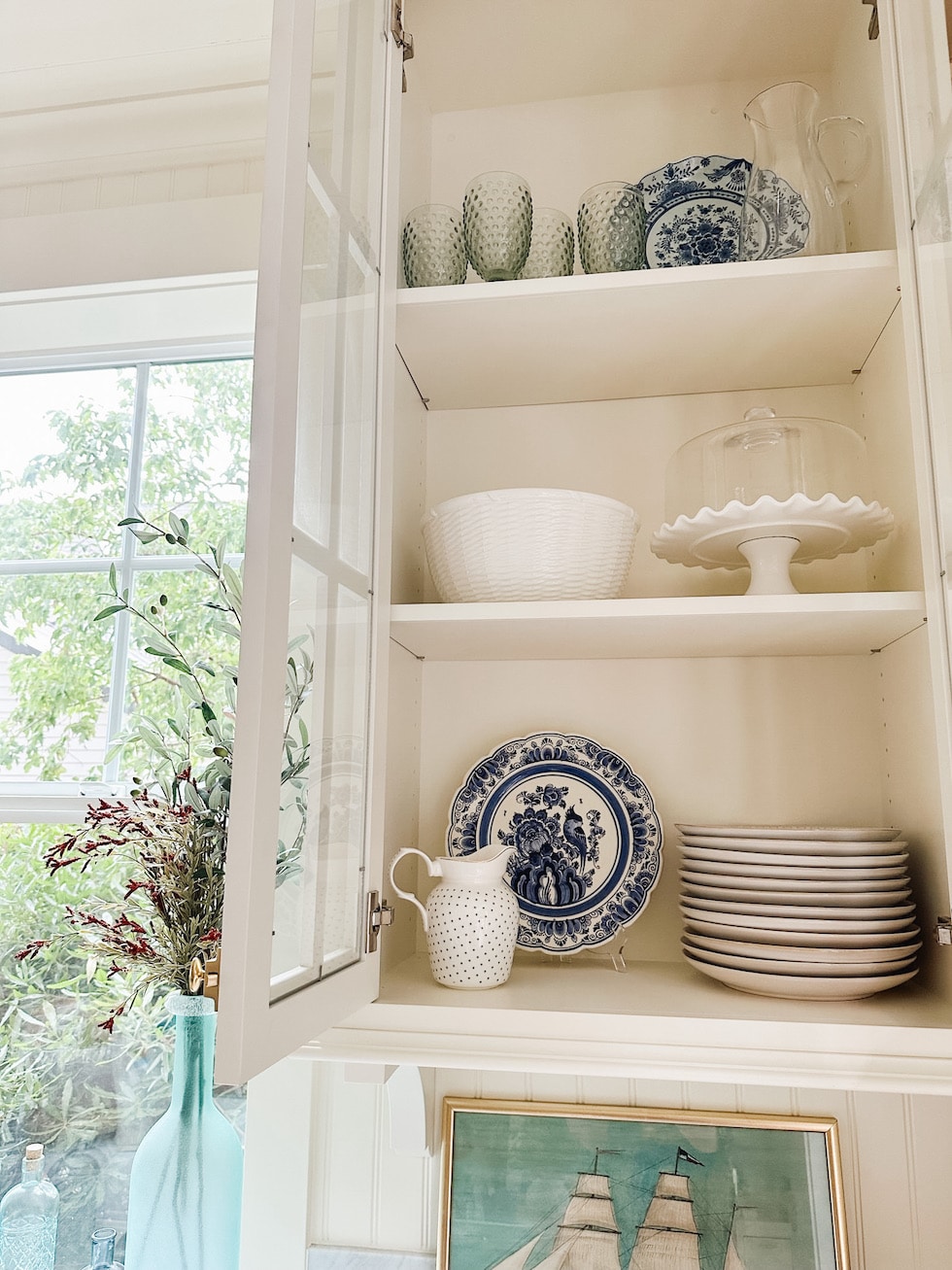 And no matter what gets done on our projects this week, next week I plan to be happy as a clam puttering around my new kitchen (the reveal photos will be coming soon, I promise) and of course, I'll be fall nesting! Who is ready to talk about all things cozy? 🙂 I was *this close* to turning on the fireplace today, friends.
---
One last bit of news, I want to make sure you are in the loop…. there is just ONE final day to join us for our fun new fall and holiday session in HomeBody Gathering Place! I would love to have YOU there. It is such a wonderful place and unlike any thing else out there!
HomeBody Gathering Place is a unique and special membership community filled with custom resources and mini-courses all designed, created and led by ME (and the help of my two daughters).
We provide HGP members beautiful, practical and meaningful resources to support them in all aspects of creating a sanctuary.
We close our doors Thursday to begin our fall session together September 1 as a community and won't open again until the new year so now is really the last chance to hop in.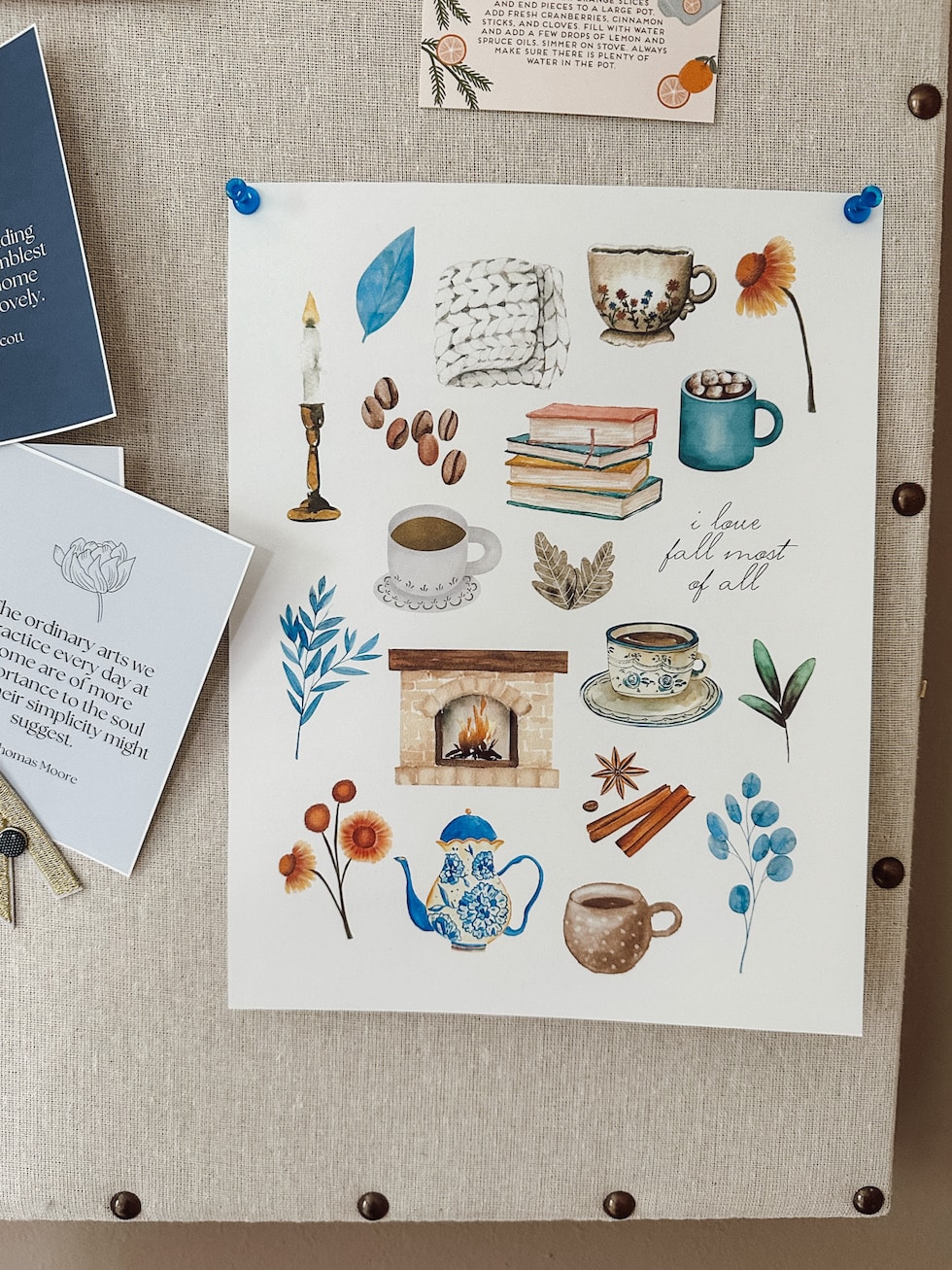 If you (like me!) are excited to create a sanctuary, if you love all things home, want to join us for weekly check ins and would be excited to learn from our custom home mini-courses and enjoy using our pretty seasonal downloads to get organized and focus on your home-keeping skills, if you love puttering, decorating, hospitality and the holidays and finding your own seasonal and home rhythms, the HGP is truly THE place to be! We offer all of that and so much more.
You don't need Facebook to join, but we also offer members the option to join us in a private FB group if you love the social aspect, want to ask questions, have accountability or want to be a part of a private community of like-minded friends. Otherwise, you can access our resources and mini-courses from a private dashboard. You will also receive our weekly member email with updates on current content.
Find all the details on HomeBody Gathering Place and how to join us here!