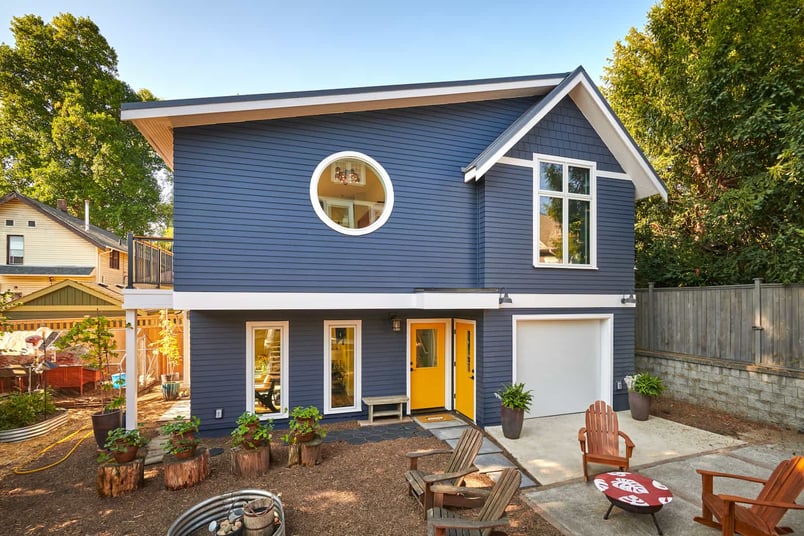 When it comes to remodeling your home, the conventional approach is to hire an architect first, right? However, in recent years, more and more homeowners are discovering the advantages of design-build (DB) and how it can save them time, money, and headaches during the remodeling process.
If you are wanting an in-depth overview of the design build process we recommend you check out our podcast episode, Is Design-Build Right for You and Your Project? with Leslie Eiler and Michael McDermott! 
What Is Design Build?
Design build has been transforming the residential remodeling industry for the past few decades, gaining momentum in recent years due to the real benefits it offers homeowners. In simple terms, design build for a home remodel means hiring a single company to handle both the design and construction of your project, eliminating the need for separate contracts with an architect and a general contractor. While it may seem like a subtle distinction, comparing the pros and cons of design build versus the traditional architect plus general contractor approach is essential. While design build is not suitable for everyone, those who appreciate its simplicity, straightforward pricing, and convenience find it can turn a major hassle into an enjoyable remodeling experience.
Who Should Choose Design Build?
The fundamental difference between design build and the traditional architect-contractor approach is rooted in trust. In the traditional model, the architect is hired by the owner to design the project while ensuring the contractor adheres to the plans. However, this adversarial model lacks protection for the owner against the architect, who may be less knowledgeable about construction costs and practicality compared to the contractor.
Design build, on the other hand, follows a collaborative approach, where the designer and builder work together as a team under one company with the client. For us at CRD Design Build in Seattle, we have an office where we have architects, designers, and our production team all in the same office and working for the same company. Other design build companies will hire out for their architects and sometimes designers as well. We are able to problem solve and be more agile as all our employees work together daily, even though they are in different departments. This cohesive effort towards a common goal ensures a smoother and more efficient remodeling process. Hence, for homeowners in Seattle seeking a hassle-free experience, design build may be the right choice.
Who Should Avoid Design Build?
While design build is an excellent option for many homeowners, it may not suit everyone. If working with a renowned architect is a top priority and budget considerations come second, sticking to the traditional approach might be more suitable. Additionally, if a homeowner is comfortable with the more adversarial relationship between the architect and contractor and doesn't mind settling disputes between them, design build may not be the best fit.
Are Design Build Firms More Expensive?
The overall cost of a remodeling project depends on various factors, such as scope, materials, existing conditions, and changes made during construction. One of the key benefits of hiring an experienced design build firm, like us at CRD Design Build in Seattle, is the convenience and budget accountability it provides. An architect often designs to an ideal vision, but the homeowner might only discover the actual building costs after the design is complete, leading to unexpected surprises. In contrast, most design build firms provide construction cost estimates throughout the design process, leading to a design that fits within the budget. Some even offer guaranteed fixed-bid building contracts, further minimizing surprises and keeping projects on track financially. Here at CRD Design Build, we offer fixed pricing before construction starts so clients feel comfortable going into construction that the construction cost will not change unless there is a client-driven change order or an unforeseen circumstance. 
Why More Homeowners Are Choosing Design Build
With over 40 years of Design Build experience, we at CRD Design Build in Seattle firmly believe in this approach. Our founder helped pioneer the concept after witnessing homeowners come to him with unaffordable architectural plans. While the decision to go with design build or the traditional approach is personal, we'd like to share some of the top reasons why our clients choose DB (or are glad they did).
Accountability: With design build, one company is responsible for the entire project, leading to better accountability and seamless teamwork between the designer and carpenters.

Efficiency: The collaborative nature of design build means an efficient team with established processes, reducing kinks and delays during the remodeling process.

Quality: With a single firm in charge of the project's quality, it ensures a focus on cost-effective solutions that deliver the best value, quality, and design.

Communication: Constant and open communication between design professionals, construction experts, and homeowners throughout the process helps identify and address potential issues before construction begins.
If you have questions about the design build process, we would be happy to chat with you! We love to inform homeowners all about the design build process and how we can help here at CRD Design Build with all your Seattle remodeling needs – from small to large projects.