Housing trends come and go, sometimes making it difficult for homeowners to keep up with the latest styles. We have created this guide to help you review some of the modern home design trends making a comeback this year. Use this guide to keep your home design up-to-date and furnished with the latest trends.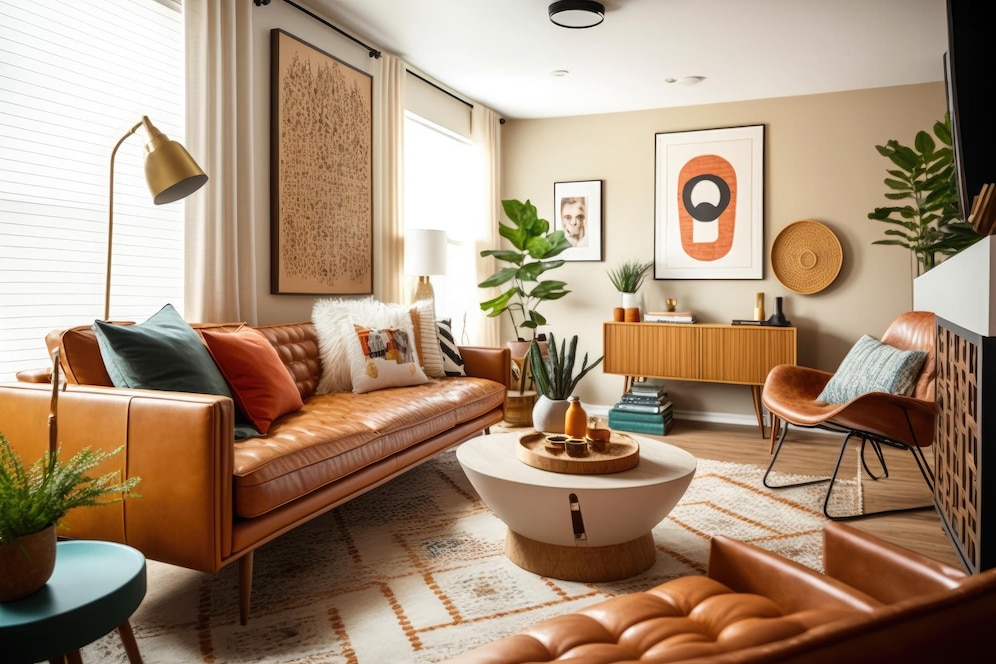 Subtle Color Tones
Subtle, modern colors are still in. This includes earthy tones, like browns and pinks. The great thing about these colors is that they blend in well with other designs. You can decorate your home with a wide variety of paint colors or furniture without worrying about the wall colors clashing. This is a shift from the dull pale grays that dominated the last few years.
Statement Glass Windows
For years, homeowners gave little thought to the design of their windows. Choosing windows in the bathroom, kitchen, and main living areas has primarily been about functionality. While functionality and purpose are still essential when replacing your home's windows, you can also use them to add a vibrant modern design to your home. Statement glass windows can also become the focal point of your home, meaning you don't have to spend as much as on other decor.
Textures
The last few decades brought us wide-open floor plans. While adding a wall to divide rooms may not be cost-effective, you can achieve more balance in your home with texture. Three-dimensional tiles can be used as a backsplash in the kitchen or bathrooms. 
Textured wallpaper can be used as an accent wall in the bedroom or living room. You can also add texture in the form of raised tiles near a fireplace, behind the main dining room area, or in the shower stall. Even better, the peel-and-stick backsplash can be an easy DIY project.
Premium Wood Hand-Crafted Furniture
Wood is making a comeback in 2023 and is expected to be even more prominent in next year's designs. Today homeowners are ripping out carpeting and faux floors to refinish original hardwood floors. Even some ruined hardwood floors can be salvaged by resurfacing them.
Homeowners are also turning back to premium, wood hand-crafted furniture pieces. Hand-crafted wood furniture pieces are a drastic change from fast-manufactured furniture pieces that are often made with cheap materials and fall apart within a year or two. 
Homeowners today are seeking solid, durable dining rooms and coffee tables. They're also adding a modern element to these woodworking designs. Modern live edge tables highlight the intricacies of different wood types while also fitting in with today's trendy stylings. Wooden stools, work benches, and living room furniture made with premium materials are also returning.
Natural Light
Many homes today are being built with more access to natural light. This includes floor-length windows and ample recessed lighting options. In addition to the wide-open windows, sun-blocking window treatments are also trending. With the increasing cost of utilities, homeowners are looking for natural ways to reduce their bills. 
Also trending are solar-powered and LED lights. Both offer many benefits to homeowners, including less utility costs and softer room lighting. More people are also aware of the benefits of consistent light, especially during long, colder winter months. More natural light in the living room, dining room, bedrooms, and kitchen is more important than ever.
Sustainable Home Designs
Sustainability will become even more important over the next few years. This includes using materials that are environmentally friendly and recycled. It also means choosing designs that are also functional, which may mean reducing energy use or minimizing the need for replacement materials.
Performance Fabric Furniture Pieces
Performance fabrics that are stain and water-resistant are also a priority in many households today. Households with children or pets seek furniture pieces that can be easily washed or replaced. Specifically, this includes couches and chairs made of microfiber or wool materials.
Built-in Furniture
Built-in furniture pieces that save space or contain storage are also found in more homes this year. This may include a built-in breakfast nook or a drop-down desk. These often require custom-made designs that fit the homeowner's space and design goals.
Nostalgic Decor
The nostalgic decor is also being seen in more homes today. This includes vintage furniture and wall art from different eras. The specific era depends on the homeowner, but staying consistent with designs can help achieve a trendy design. Decorating your home with nostalgic decor can also be fun. You can check out local thrift shops or sift through packed boxes from your childhood.
Keeping up with the latest home design trends isn't always easy. But doing so can help you maintain a modern design that protects your home's resale value. You can also focus on furnishing your home with high-quality decor and pieces that you enjoy, which will always be in style.