Africa Daley-Clarke
Founder of lifestyle platform the Vitamin D Project
Best: installed glazed internal doors
Our previous home was a social housing flat in London with two bedrooms, a front room, kitchen, bathroom and small balcony. It was cramped, dark and in a state of disrepair when we moved in, so we decided to invest two-years' of our savings into renovating it. Our best decision was to replace the solid hallway doors with glazed vintage one from englishsalvage.co.uk. (Their search function allows you to filter by measurements, which I haven't found anywhere else.) The glass let light filter through the entire flat and, because you could see into the rooms, also created a sense of spaciousness. It made such a difference.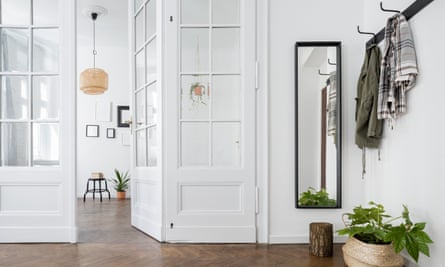 Worst: installed a kitchen range in a hurry
We moved into our new home in 2021, and the plan was to focus on the bedrooms and living areas first. However, two days before Christmas, we deviated from the plan. The kitchen only had a microwave, so we decided to use the secondhand freestanding range we had brought with us from our rental so we could cook Christmas dinner. After weeks of ready meals, it felt like it wouldn't be a proper family Christmas if we weren't able to cook, and that clouded my judgement …
In a rush, we paid more than £1,000 for some builders to hack away at the 1970s cabinets to expose the original brick fireplace in the kitchen. The plan was to install the range there, but it didn't quite fit so the builders had to chisel the bricks in half to wedge it into position. What we've been left with is a badly damaged exposed brick wall that now needs rebuilding entirely. For the same price we could have created a lovely, liveable space. We got our Christmas dinner, but we also now have brick dust falling in our food. I feel awful, because I pushed for it to happen.
Laura Jane Clark
Presenter and architect
Best: moved the washing machine to the attic
One of the best things I've done in my own home, just outside Glasgow, is move the washing machine into what was a broken shower room in the attic with very low head room. I wanted the machine closer to where we take off our clothes and bedsheets – in most homes, the lovely clean washing shares a space with coats, boots and maybe a muddy dog.
I built a platform that was "decoupled" from the floor to minimise noise and vibration, consisting of a chopped-up pallet with thick rubber matting below. Then I plumbed in a dehumidifier, so we could dry our washing without the need for an energy-hungry tumble dryer. Dehumidifiers dry out the space, and anything in it, with the moist air condensing within the machine that then drains out into your existing sink or basin drainage.
Worst: created a Barbie pink feature wall
I decided to paint an entire sitting room wall high gloss, shocking pink. Woodwork, wall, door – everything. In my mind's eye, I thought it would be a glamorous and striking backdrop to a gallery wall coupled with a zebra print rug and floral cushions. In reality, it looked horrendous. Everything in the room exuded a sickly shade of pink. But I still haven't learned my lesson and am currently painting my bathroom in mustard gloss. Maybe this time it will work out.
Matt Gibberd
Co-founder of The Modern House and Inigo
Best: planted a wildflower meadow
Three years ago, we moved from London to a house in the South Downs national park, and planted a wildflower meadow. My wife is the most visual person I've ever met, and it was the first and best idea she had when we initially visited the house.
We consulted a specialist, Charles Flower (a prime case of nominative determinism), who supplied the seed mix. Fortunately, our plot provided the perfect growing conditions for wildflowers such as sorrel, birdsfoot trefoil, yarrow, musk mallow and oxeye daisy and the meadow sprang into life in the first year.
Whereas the garden previously looked manmade, it now feels like a natural extension of the valley beyond. The place is alive with wildlife, from hares to barn owls. We've buried an in-ground trampoline in the farthest corner, so the kids run through the meadow to reach it, and our whippet uses the grass paths like an athletics track. Throughout the summer months, we pick the flowers and arrange them in vases around the house.
Worst: fitted the wrong door knobs
I've always liked Finnish architect Juhani Pallasmaa's notion that the door handle is the "handshake of the building". If you're going to physically connect with something every day, it should feel natural and suit the period of the house.
When we moved in, we replaced the cheap crystal door handles with brass knobs. Unfortunately, they're too small in relation to the doors, so the mechanism inside comes under strain and eventually gives up. (We discovered this last Christmas, when we locked Granny in the sitting room for over an hour with only a mince pie to sustain her.) It would be expensive to replace them all, so every now and again I dust off my set of allen keys and do some maintenance (through firmly gritted teeth).
Sarah Wigglesworth
Architect
Best: future-proofed our home
Twenty years ago, my partner and I built our own eco-home. We love it and could not envisage leaving it, but watching the difficulties our parents had navigating their older age, we decided that – if we were to stay here all our lives – we'd have to adapt the building, something we hadn't thought about when we designed it in our early 40s. But when carrying out an environmental retrofit of the building, hitting two birds with one stone seemed like a good idea.
Many aspects of what creates a good quality of life in older age were already present: fantastic daylight, connection with nature, access to transport and services. What we needed were things like a walk-in shower, an eye-level oven, grab rails and space to install a lift if/when required. Other features, such as comfort, warmth and good air quality, were taken care of in the retrofit.
Altogether it has made the whole place more comfortable and livable, while reducing our energy bills. With a new colour scheme (providing good contrast in case one of us suffers dementia), we are well set up without our home looking like a hospital!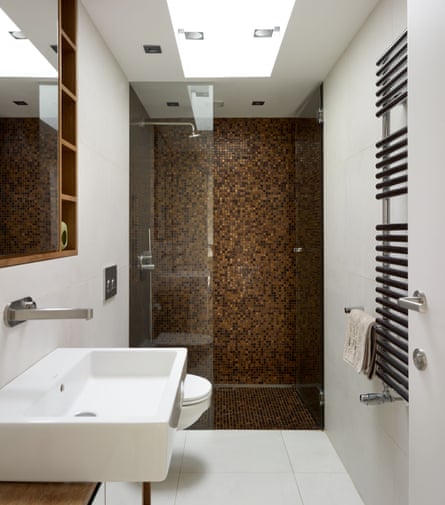 Worst: wooden sleepers in the garden
The only thing we made a mistake with was in the garden, where we edged our raised planting beds with oak sleepers. Although it's a natural, ecological product that looks nice, after a few years the sleepers began to rot, producing astonishing oyster mushrooms (which were delicious). But eventually they had to be replaced, which we did in steel plate.
Sandrine Zhang Ferron
Founder of Vinterior
Best: created a partition with joinery
We've recently completed a large redecorating project on our Victorian home. The previous owners had knocked through the two living rooms, creating one long space, but we found it difficult to create a functional layout. We wanted to keep the double aspect so we created a partition of open shelves: this gives us a "grown up" reception area at one end of the room, with a TV and play area on the other side.
The wooden partition has been spray painted off-white. There are cupboards at the base and shelving above displays objects and books. The open design means that both areas still feel bright and spacious. At the weekend, my husband watches sport on TV while I read in the reception area and enjoy the sun coming through the windows. It's also a great place for pre-dinner drinks with friends and family. It has really transformed the way we use the room.
Worst: limewashed the loft
We painted a study and room in the loft with pale limewash. We looked at lots of images to get an idea of what it could look like, and loved its textured finish.
After the first attempt, the brush streaks were clearly visible so we asked our contractors to give it another go. When it was redone the streaks had gone but the overall look wasn't anything like our inspiration images. In fact, it looked more like we had water damage. Our doubts were confirmed when friends stayed in there and they asked us if there was a leak in the roof …
Luke Edward Hall
Artist and designer
Best: made curtains from vintage fabrics
When we moved into our rented cottage in the country, we scoured eBay and local junk shops for lengths of old chintzes and printed cottons and linens, which we then made into curtains, blinds and cushions. I often buy discontinued fabrics, and I don't mind the occasional bit of fading – it all adds to the character and individuality.
There is a wonderful maker nearby who I send fabrics to; she made all of our curtains and blinds. I used off-cuts of old, brightly coloured silks I had lying around for blinds in our bathrooms. We wanted full-on 1980s-style frothy blinds. They add romance and theatre, key elements I look for in any interior.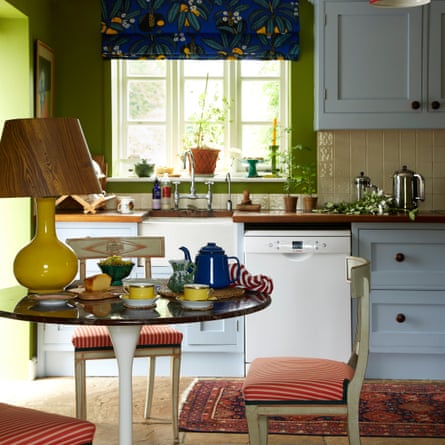 Worst: not replacing our old bathroom floor
We overhauled our bathroom last year and decided to leave the tiled slate floor in situ. At the time, I couldn't quite face the idea of taking it up, which would have meant removing the bath, toilet and basin and plumbing everything back in afterwards.
Instead, we spent time and money on a new paint colour, new wallpaper, new lighting and a new blind. Once the decoration was complete, however, we realised pretty quickly that the old slate floor just didn't quite cut it. I wish now that we'd replaced it when we did the rest of the room.
We have had a few plumbing issues recently and it's looking like we might need to take the floor up. Secretly, I'd be very happy to do this. In fact, I can't wait! I've been thinking about these lovely terracotta tiles. Perhaps we'll replace the floor even if the plumbing issues don't require it.