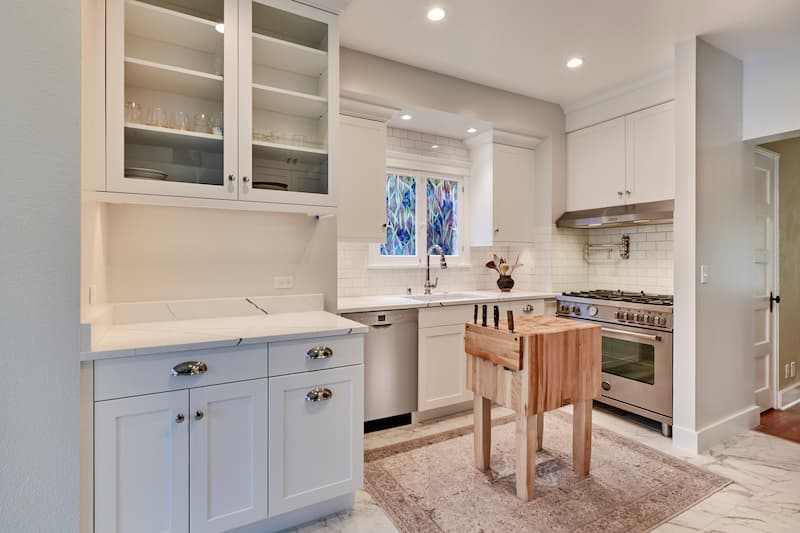 There are a multitude of reasons for people not wanting to invest a ton of time or money into remodeling their houses. Whether that be budget constraints, wanting to move in the near future, lack of interest in modernization, being short of free time, or an overall lack of knowledge on remodeling and interior design.
If you do have an interest in doing some minor cosmetic updates to your kitchen- not just for aesthetics but also for functionality but you aren't sure where to start, you've come to the right place. If you found any of the above reasons relatable, that doesn't mean remodeling isn't for you. It might boil down to one thing: lack of understanding or guidance. Even if this isn't your forever home, you deserve a space that looks nice and feels right to be in.
In fact, there are plenty of easy and affordable ways to update your kitchen without breaking the bank or taking up too much of your time. If you'd like to hear about all the ways you can improve your cooking space then we highly recommend giving our latest podcast episode a listen! 
The Main Take-Aways
Details
For starters, you can simply swap out your old hardware for new, modern pieces. This can include cabinet handles, drawer pulls, and even faucets. You'll be amazed at how much of a difference this small change can make and it's a project you can take on yourself.
You can update any fixtures to match your new hardware too. For example, a new faucet alone could do wonders not just for the look of your kitchen but for its functionality. Many older faucets are low hanging or are missing a spray nozzle making dishwashing a complicated and messy experience.
Lighting
When it comes to updating your kitchen, lighting is often overlooked but can make a huge difference in elevating the space. Consider adding under-cabinet lighting to brighten up your countertops and provide a warm ambiance. Pendant lights over an island or dining table can also add a stylish and practical touch. If you enjoy cooking then you know, good lighting can have a majorly positive impact on your time spent in the kitchen.
If you have a small kitchen, adding recessed lighting can create the illusion of a larger space. And don't forget to switch to LED bulbs for energy efficiency and long-lasting lighting. With the right lighting updates, your kitchen can feel like a completely new space that's both functional and beautiful.
A fresh new Layer
Another quick and easy update is to paint your kitchen walls. This is a great option if most of your finishes aren't super outdated and you just need to breathe some life back into the space. You can choose a bold color to make a statement or go for a more neutral shade to create a timeless look.
You might want to consider adding a fun pop of color or a unique pattern with wallpaper. Wallpaper works great above wainscoting or small areas of walls that aren't covered by cabinetry. 
Pull and Replace
If you're looking for a slightly bigger change, consider replacing your countertops. While this may seem like a bigger investment, there are plenty of affordable options out there that can give you the look you want without breaking the bank. If you simply pull out the old tops and replace them in the exact same place then you won't need extensive design work. This project works perfectly with our Fixed-cost development agreement option done through home-services.
The same can be done with a new sink, cabinets, or flooring all being replaced in the same size and location.
Click the arrows below to update this bright green kitchen
Need Some Direction?
Finally, don't underestimate the power of lighting. Swapping out your old, outdated fixtures for new, modern ones can make a huge difference in the overall look and feel of your kitchen. Plus, it's a quick and easy update that you can do yourself in just a few hours.
So, don't be intimidated by the idea of a kitchen remodel. With a little creativity and some strategic updates, you can transform your space without spending a fortune or sacrificing too much of your time.